Acrylic Mediums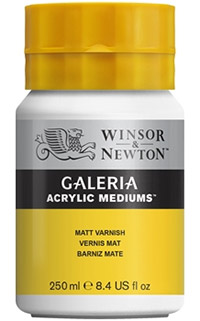 Painting is often as much about texture and "feel" as it is about the "look" of the image and that's why we have developed a complementary range of Galeria Acrylic Mediums that are perfectly suited for Galeria colour. Designed to offer you fresh options, these allow the artist to explore the full range of the tactile as well as visual properties of acrylics.
Acrylics allow you to explore virtually any application you can imagine. The possibilities range from controlling the finish (be it gloss, matt, satin or iridescent) to altering the consistency of the colour (thick for textured works, thin for flat paint films). Using the proper medium allows for staining, printmaking, mixed media, aggregate textures and even carving.
Read more about acrylic mediums
Texture Gels
These offer a range of aggregate textures within heavier acrylic gels.

Texture gels are suitable for any application in which highly unique surface textures are desired. Texture Gel ranges from Medium Grain Gel to Glass Beads to Natural Sand, both the fine artist and the craft user of acrylics can rely upon a selection of textures with greater stability than those mixed by the artist in the studio.
General Purpose
If you are looking to maintain the consistency of the colour whilst improving the flow and transparency then we recommend that you use Galeria Gloss Medium or Galeria Matt Medium. Colours will remain usable slightly longer when mixed with these mediums.
Galeria Gloss Medium (left) Galeria Matt Medium (right)
Brushwork, Texture and Impasto
Galeria Structure Gel can be added to colour to thicken the consistency of your colours, accentuate brush marks and textures in the painting. Structure gel creates high peak retention and is smooth and flexible to work with. For an even heavier application choose the Galeria Heavy Structure Gel ideal for creating strong surface texture and very high peak retention. Smooth and flexible yet heavy layers are easily and quickly built up.

Varnishing – Protecting your finished artwork
Varnishes are used to protect finished paintings from dirt and grease and are available in three different finishes: Gloss, Satin and Matt. All Galeria varnishes are removable with Galeria Varnish Remover, enabling the painting to be cleaned in the future. Thinly painted acrylic films may be varnished after 48 hours drying time. Up to a week should be allowed for heavier layers before varnishing. Varnishes can be intermixed for a variety of finishes.
Brushes
A variety of brushes are suitable for use with acrylics. Traditionally hog has been the most popular for those using tube colour consistency. Within the last few years synthetic brushes have also entered into common usage.
Galeria Acrylic brushes are available in both long and short handles, the latter being softer for when more water or medium is used. Artisan brushes can also be used with acrylics and have a stiffer brush head, more like hog. University brushes are firm enough to use with Galeria Acrylics and offer the artist a more affordable option.
For those using blending or watercolour techniques, soft hair brushes (synthetic or sable) can be utilised. We recommend that great care should be taken to clean brushes immediately after use with soap & water to maintain their good condition.
Primers
Primers control the texture, absorbency and the colour of the support. It is important to use a good quality primer for good quality colours as the longevity of the painting depends upon all its constituent parts.

There are four Winsor & Newton acrylic primers from which to choose:

a) Acrylic Gesso Primer - Highest covering power and is the best primer if using only one coat.
b) Clear Gesso Base - A unique product which provides tooth but no colour, hence you can make your own coloured gesso primers by the addition of acrylic colours to the base.
c) Galeria White Gesso Primer - Use straight from the pot - Made from high quality acrylic resin with a good level of pigment strength. Excellent "tooth" for film adhesion. To reduce absorbency and to boost the integrity of the film, a minimum of two coats is required when working with oils. A good quality gesso at an affordable price.
d) Galeria Black Gesso Primer – Use straight from the pot. A matt black finish for maximum colour contrast. To reduce absorbency and to boost the integrity of the paint film a minimum of three coats is recommended on canvas when used with oils
The primers are developed for stable surface preparation and may be applied to a clean, porous surface. Plastic surfaces will require abrading or sanding for 'tooth' and mechanical adhesion. Leather will need to be degreased (with methylated spirits/alcohol) and slightly abraded.