Winsor & Newton Water Colour Markers are an outstanding range of highly pigmented water-based markers which deliver Winsor & Newton's superb colour performance with added precision.
Expertly crafted with a twin tip, the markers enable artists to achieve unrivalled definition and control with water colours. Each marker has a fine point on one end and a flexible brush nib on the opposite, helping you create a variety of stunning, sweeping line thicknesses and superior detailing. The colour is easily blended with water to create soft and vibrant water colour washes.
The markers have been specially formulated using fine quality artists' pigments. They not only offer incomparable vibrancy, flow and blending ability, but they also provide excellent permanence and durability far superior to their dye-based marker equivalents.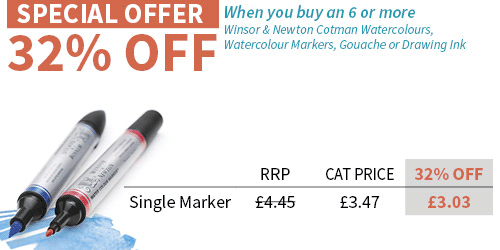 Show more
Winsor & Newton Water Colour Markers are available in a balanced spectrum of 36 brilliant colours and are fully intermixable with traditional water colours and mediums. For optimum results, use them with Winsor & Newton Watercolour Paper, which provides excellent lifting properties to further enhance the blending abilities and flow of the markers. Alternatively Bockingford Watercolour Paper can be used.
Delivering impressive precision combined with our expert colour performance, the new Winsor & Newton Water Colour markers are an indispensable addition to the water colour artists' palette. Trying is believing, so start using the markers today and experience their wonders for yourself.
Show more