An artists' quality oil colour in stick form, Winsor & Newton Artists' Oilbar enables painting and drawing freely and directly onto surfaces.
The new Artists' Oilbar is a unique medium because it provides artists with greater buttery consistency and richness of oil colour together with the freedom and directness of pastels or charcoal.
WINSOR & NEWTON OILBARS ARE NOW DISCONTINUED AND ONLY AVAILABLE WHILE STOCKS LAST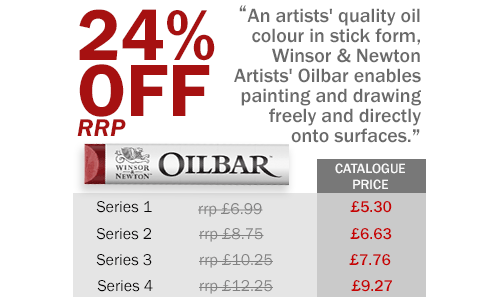 Show more
Artists' Oilbar is fundamentally different from oil pastels or oil crayons due to its unique formulation. The new range has a spectrum of 50 colours each of which is produced by combining artists' quality pigments with linseed or safflower oil, blended with specially selected wax. It offers an exciting and versatile way of painting and drawing – from sketching, to sgraffito effects, whether used on its own or with tube oil colour.
Show more