Liquitex Professional Acrylic Ink! is a range of extremely fluid acrylic that use super-fine pigments in a state-of-the-art acrylic emulsion. They dry quickly, are permanent, water resistant and non-clogging, which makes them ideal for a variety of techniques from watercolour effects to stamping. 30ml bottles.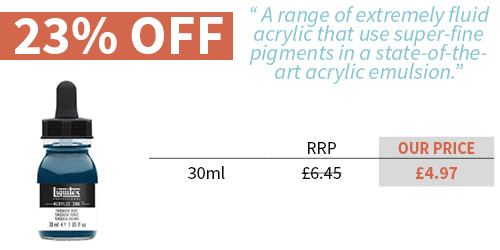 Show more
•Intense bold lightfast colours •Extremely Fluid, no need to dilute for airbrushing or calligraphy • Superior water resistance • Non-Clogging • Fast drying Ideal for watercolor effects, color blocking and under painting Intermixable with all other Liquitex acrylics and mediums • A balanced colour line of opaque and transparent colours.
The full colour range is available in 30ml bottles, Carbon Black is also available in larger 150ml bottles.
This ink is great to use with airbrushes, see our full range of airbrush equipment here...
Show more
Acrylic inks are made using a pigment and a binder much like oils, acrylics and watercolours. Sometimes the binder and pigment may separate in the bottle and will need shaking to mix them again so that they are ready for use. This is more common in colours such as white and yellow, so you may find that these colours need more shaking than darker colours. The degree of separation varies from one range to another, and should not be considered a fault.
Show more