DANIEL SMITH currently offers 216 different watercolors, with more in the works every year. The sheer range of possibility they offer is endless and unparalleled in the industry. This amazing selection spans the spectrum from the historical, to our natural earth and PrimaTek colors (read more about PrimaTek colours here), to our Quinacridones, the brightest and boldest colors modern technology has to offer.
Please Note: The 15ml Quinacridone Gold has changed and the new colour code is 284600238. The Pigment content has changed from a single pigment colour PO49 to a dual pigment colour PO48 & PY150. The 5ml Quinacridone Gold has always had the pigment content of PO48 & PY150.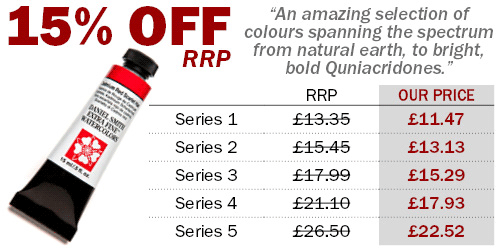 Show more
We have much more information about Daniel Smith Extra fine watercolours and detailed colour information on our info pages.
Show more