Daler Rowney System 3 Heavy Body Acrylic Paint 59ml tubes are available in 27 colours. Daler Rowney System 3 Heavy Body Acrylic Paints, powered by Cryla, have been reformulated to deliver higher pigmentation and more power than ever before. Their heavy body consistency gives these paints superb peak retention that is ideal for impasto techniques and palette knife painting. Their texture also retains brush strokes - ideal for adding texture to your artwork.
The high pigment content of these paints gives them excellent colour strength, covering power, lightfastness and permanence. They are also fully intermixable with System 3 Original Acrylic Paints, and can easily be thinned with water. Each colour in the range has a uniform, egg-shell finish and can be used on a variety of surfaces - both indoor and outdoor. They are ideal for mixed media work.
Made in England
Download the Daler Rowney System 3 Heavy Body Colour Chart.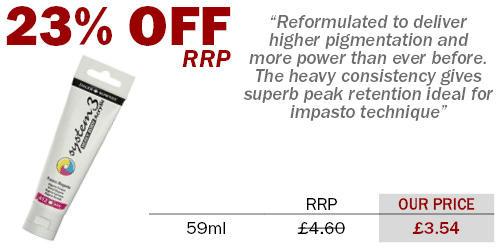 Show more