With its exceptional heavy body consistency, System 3 Heavy Body is ideal for achieving textured effects and using impasto techniques. It retains brush marks, holds its shape, allows the creation of motion and adds volume to your artwork.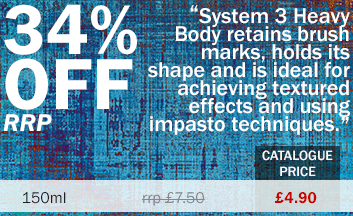 Show more
All System 3 Original and Heavy Body colours are fully intermixable and suitable for interior use. As they are not lightfast, fluorescent colours are not recommended for exterior use; all other colours are both lightfast and durable.
System 3 Heavy body paint is available in 34 colours.
Show more