Why you need to try our new range Schmincke Horadam Watercolours
Schmincke Horadam watercolours are made using only the very best raw materials to ensure that they meet the high standards that professional artists demand. Now available 139 beautiful colours, this paint range offers a balanced spectrum of hues ideal for mixing, glazing and a wealth of other painting techniques.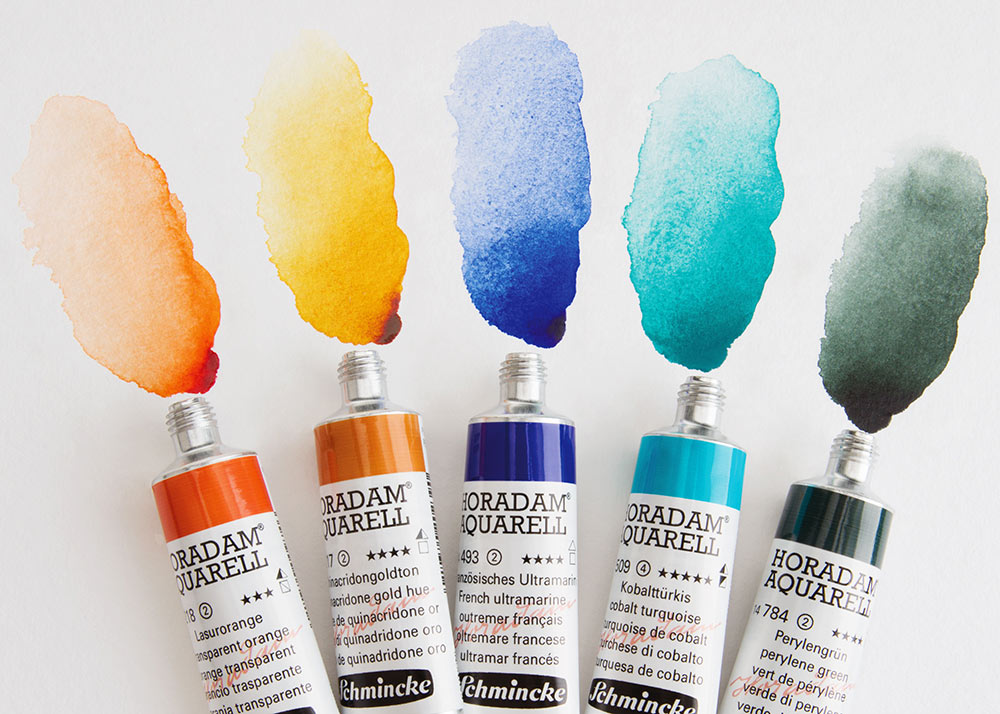 Schmincke pride themselves on manufacturing their Horadam watercolour paints with the highest quality ingredients available. Each of the 139 colours in the range are made using professional quality pigments bound with Kordofan Gum Arabic sourced from the Sahara region. Their pigments are carefully selected to ensure that professionals are provided with paints of the very highest lightfastness. Horadam's formula also includes an optimum amount of Oxgall; this finely calculated mixture ensures that their watercolours have the perfect surface tension allowing them to flow effortlessly when mixing and painting.
Horadam watercolours are unique in the fact that both their tube and pan watercolours use the same formula. Other paint manufacturers add fillers to their tube paint mixtures to give them a clay like consistency that can easily be cut into pans. Schmincke's Horadam colours are both kept fluid, and, in the case of pan colour, the colour is poured in layers and left to dry in the pan. This process was patented by the company founders and dates back to 1892. Only this method will guarantee maximum pigment load when the pan is activated with water. Another benefit to this formula is that when your tubed colour is dried on the palette it is much easier to reactivate with water than other brands!
Celebrating 125 Years of Paint Making

Horadam Aquarell's colour range was recently expanded to 139 colours, including 35 new hues to celebrate their 125th Anniversary. The expansion of the range also saw the addition of 'Onetz', a thickened Ox Gall medium that can be mixed with colour to improve wetting.
If you're just getting started in watercolour or want to give the Horadam range a try, Schmincke offer some excellent guidance on which colours would be the best to begin your palette to ensure excellent mixing results. Schmincke's 12 colour Horadam sets contain a basic selection of colours that allows the greatest possible amount of mixing. The colour combinations work on the premise of having a warm and cool variant of each primary, two premixed greens, three earth colours and an ivory black. These colours are selected to fill most of Schmincke's 12 colour sets, with larger sets having extra hues added for convenience, but if you would prefer to buy them separately they recommend starting with:
215 – Lemon Yellow (cool)
224 – Cadmium Yellow Light (warm)
349 – Cadmium Red Light (warm)
353 – Permanent Carmine (cool)
494 – Ultramarine Finest (warm)
492 – Prussian Blue (cool)
519 – Phthalo Green
534 – Permanent Green Olive
655 – Yellow Ochre
649 – English Venetian Red
663 – Sepia Brown
780 – Ivory Black


Colours from left to right, top to bottom – Lemon Yellow, Cad Yellow Light, Cad Red Light, Permanent Carmine, Ultramarine Finest, Prussian Blue, Phthalo Green, Permanent Olive Green, Yellow Ochre, English Venetian Red, Sepia Brown and Ivory Black.
Cadmium Yellow fulfils the requirement of a basic yellow on your palette, and mixing it with red will create the warmest tones. Lemon Yellow has a cooler greenish tone and can be mixed with Phthalo Green to create some brilliantly vibrant hues. Schmincke's Cadmium Red Light serves as an almost orange hue on your palette, with Permanent Carmine being the closest to a 'true red'. Mixing with Permanent Carmine will create clear violet shades. The two blues, Prussian Blue and Ultramarine Finest, offer drastically different colour if used straight from the pan, and can be used to create subtly different shades when painting skies. The last six colours are used as convenience colours, which can be mixed but allow you the freedom to paint without worrying about mixing colour. Phthalo Green is a cool, clear green compared to Permanent Green Olive. Both are useful for mixing and can be used to create oceanic and earthy green hues. Yellow Ochre has a yellowish tone and is useful for painting sand and walls. The reddish tone of English Venetian Red is brilliant for rendering roof tiles and red brick. Sepia is a dark blackish brown which can be used to replace black in some mixes, especially with blue. The inclusion of Ivory Black may seem questionable, but when mixed with blues it can be used to mix colours to paint stormy and atmospheric weather.
Find our full range of Schmincke Horadam Aquarelle Watercolour Paints in 15ml and 5ml tubes and a selection of pan and tube sets online!