Watercolour Painting Ideas – 29 Curated Video Tutorials & Demonstrations
Watercolour painting is often thought of as a tricky medium to master. People worry about the unpredictable nature of it and their inability to control the paint they lay down on the paper! However, once you embrace this characteristic, and let go, you will be surprised at the many 'happy accidents' which will occur!
Even though you will never be able to control the watercolour paint, practice and experience will allow you to at least predict what will happen and trying out different techniques allows you to grow and develop your own watercolour style. A helpful way to learn is by watching other artists paint, following step by step tutorials, or just following their painting process. YouTube has a plethora of great videos, but you can spend hours looking through them to find one you like, leaving you with no time to paint! That is why we have done the work for you and curated a list of watercolour demonstrations and tutorials to give you ideas and inspiration on your watercolour journey.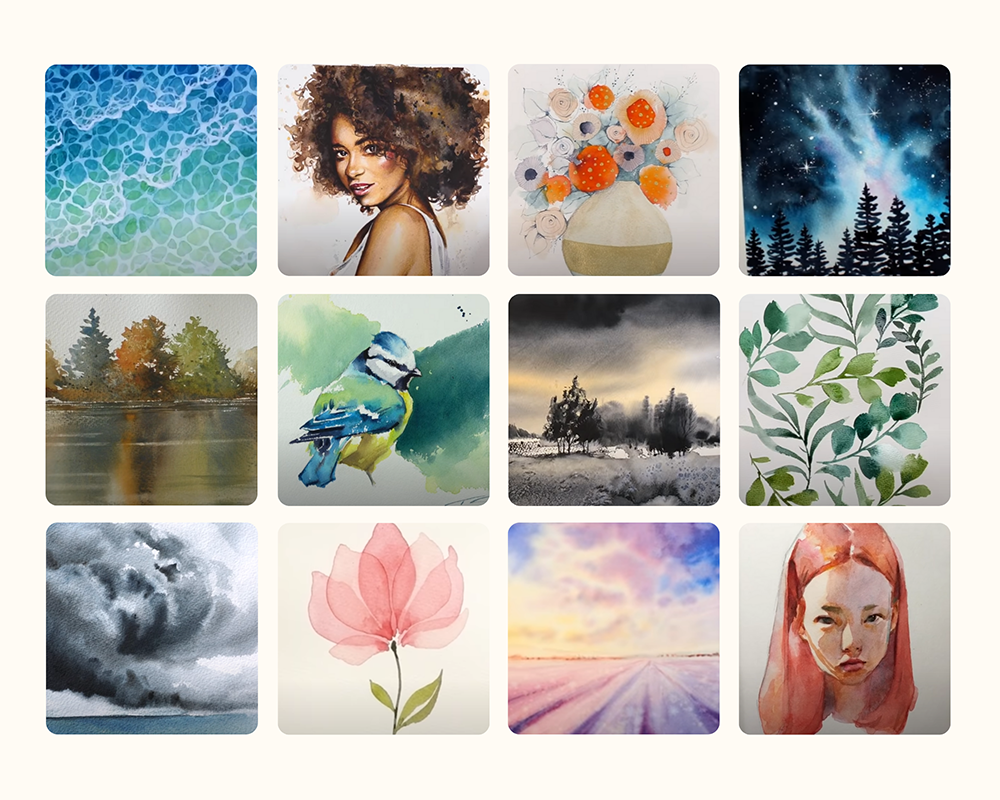 We have split them into popular subjects and tried to include a number of different techniques and styles. Let us know in the comments if you have enjoyed trying them out, and if there are any subjects you would like to see in the future!
If you want to buy any of the materials featured in the videos we have linked to some of them. We don't always sell everything the creators use, but where we can we have suggested similar alternatives.
Water / Seascapes
How to Paint Waves by Kelogsloops
A beginner friendly tutorial on how I paint waves using watercolour with just a few techniques!
Materials Used:
How to Paint Ocean Water by Wonder Forest
Learn how to paint ocean waves using watercolour paints.
Materials used:
Atmospheric Semi-Abstract Seascape Tutorial With Fun Techniques By Karen Rice
Create a semi-abstract seascape with watercolour paints, and learn how to use more unusual tools in your painting to create some interesting effects in your painting.
Materials Used:
Waves on Shore | Watercolour Painting Step by Step by MINIMstudio
Try this interesting technique to create these beautiful gentle ocean waves.
Materials Used:
The materials used in the video are not actually listed by the artist, but choose your favourite watercolour paint in a couple of blues and greens and a yellow to mix. Use some Gouache in permanent white for the waves. Pick your favourite watercolour paper and round brush. Finally, you will need some masking tape to achieve the lovely clean edges.
How to Paint Reflections by Paul Clark
A quick 5 minute tutorial on how to paint reflections in water.
Materials Used:
---
Skies / Clouds
Watercolour Cloud Study Process
Although not actually a tutorial, artist Noelle Curtis talks us through the various techniques she uses for this cloud study.
Materials Used:
Paint Watercolour Sunset Clouds With Flowers & Get in the Mood for Spring With Me!
Paint light dappled clouds in this painting of a sunset over a spring flower field. This tutorial includes a few more advanced watercolour techniques.
Materials Used:
Watercolour Tip from Peter Woolley: Lifting out Clouds
In this tutorial Peter shows us how to create clouds using a 'stopping out' technique, lifting wet paint with a .
Materials Used:
Stormy Sky Watercolour Tutorial Step by Step Ekaterina Smirnova
A wet-on-wet watercolour tutorial showing you how to paint a stormy sky over the sea. Painted using just 4 colours, Paynes Grey, Ivory Black, Olive Green and French Ultramarine and one brush.
Materials Used:
Step by Step Galaxy Tutorial by artbybee7
Paint this beautiful night sky over a forest in this easy to follow tutorial.
Materials Used:
---
Landscapes
A 30 Minute Watercolour Painting – a Mountainside Lake by Matthew Palmer
With no sketching involved, follow this tutorial to create a distant mountain with forest reflections over a lake.
Materials Used:
Semi-abstract Loose Watercolour Landscape Tutorial Using Salt & 2 Colours by Lois Davidson
Using only two colours, Paynes Grey and Yellow Ochre, a hake brush and some rock salt, you can follow this tutorial to produce this beautifully moody abstract watercolour landscape.
Materials Used:
Watercolour Sun Rays in Wood by MarenaART
This tutorial shows you how to create this atmospheric landscape of sun rays shining between the trees in a wood.
Materials Used:
How to Paint a Simple Watercolour Landscape by Joanne Boon Thomas
This lesson for beginners uses only the primary colours to paint a loose watercolour landscape. Follow along with Joanne as she demonstrates the different techniques and colour mixing to achieve this painting.
Materials Used:
---
Floral / Botanical
Watercolour Drills and Practice Strokes to Help Better Your Leaves by Emma Jane Lefebvre
Follow these techniques and practice, practice, practice to perfect the foliage in your botanical painting. Once you get going you will find this a very relaxing exercise!
Materials Used:
How to Make Perfect Doodle Dots with Gold Watercolour Paint by Creationsceecee
Create a wonderful loose painting from blobs of watercolour and doodles embellished with gold paint.
Materials Used:
3 Simple Steps for More Realistic Watercolour Leaves by Shayda Cambell
Once you have mastered getting the basic leaf shape right, this tutorial shows you how to add detail to make them look more realistic.
Materials Used:
How to Paint Sakura/Cherry Blossom Flowers
This tutorial shows you first how to sketch the flowers and buds at different angles, before going of the colours used and demonstrating the techniques used to paint the flowers.
Materials Used:
Layered Petals Watercolour Painting Technique by Jay Lee
Learn how to use a watercolour glazing technique to build up layers of translucent colours to create these beautifully delicate flowers.
Materials Used:
---
Portraits & Figures
Portrait study walkthrough from start to finish by Chris Hong Art
Watch artist Chris Hong take you through this watercolour portrait from start to finish, explaining colour choice and techniques on the way.
Materials Used:
Putting Figures In – Tips & Tricks by Geoff Kersey
Geoff gives us some tips on how to add basic figures into our watercolour paintings.
Materials Used:
10 Tips for Watercolour Portraits by Kirsty Partridge
Ten very useful tips demonstrated by Kirsty, to help you with your watercolour portraits.
Materials Used:
Watercolour Figures in 2 Steps by Liron Yanconsky
Here artist Liron Yanconsky shows how to paint these figures using two steps – a base tone and then shadows.
Materials Used:
Watercolour Tutorial: How To Paint Skin Tones
Mixing skin tones can be tricky. This tutorial guides you through the different tones and how to mix them.
Materials Uesd:
---
Animals & Birds
Watercolour Bird Tutorial – How to Paint a Blue Tit by Tom Shepherd
A comprehensive tutorial showing you how to paint one of Britain's favourite birds the Blue Tit! Tom takes you through all the stages from drawing your composition to choosing colours and mixing before laying down the layers of paint. There is even a section on tips to draw simple but accurate shapes to help you get a good structure down when starting a painting.
Materials Used:
Foxy Fox Watercolour Tutorial by Let's Make Art
Paint along with this tutorial using your watercolour paints and some salt.
Materials Used:
Wet on Wet fur like Yutaka Murakami – Black & White Bunny Watercolor Tutorial by Rachelsstudiodotcom
Inspired by the paintings by artist Yutaka Murakami, Rachel takes shows us how to paint this beautiful fuzzy looking bunny!
Materials Used:
Bluebird Watercolour Tutorial // How to paint a bird in watercolour by Louise De Masi
Artist Louise De Masi shares a shortened version of her full tutorial here. Taking you through the different techniques she uses in this wonderful Bluebird watercolour painting.
Materials Used:
---
Street Scenes and Buildings
How to Paint A Simple Watercolour Semi Abstract Urban Cityscape by Lois Davidson
She showed us how to use her loose technique to paint a watercolour landscape further up the blog, now Lois is using this same style to create this urban city scape. This time she has some added details and figures to add interest.
Materials Used:
---
We hope you found the watercolour painting ideas useful and if you decide to paint one of them make sure you share it with us on social media – we would love to see it.
We stock a wide range of art supplies on our website and our selection of watercolour paints suit every level of artist whether you are just starting out or at a more professional level.