The Art of Offhand Flourishing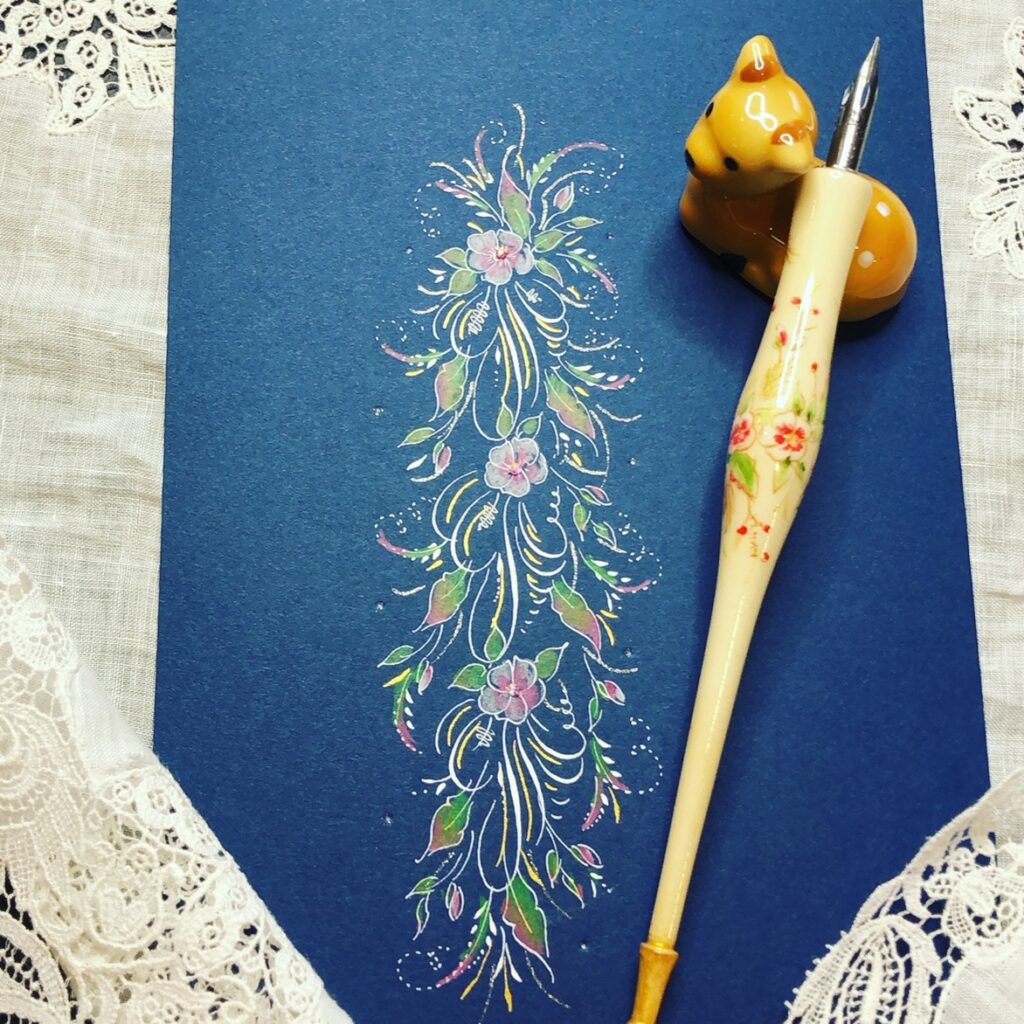 When I began my calligraphic studies in 2003, rather than studying letterforms, I quickly realised that I wanted to study pointed pen flourished ornaments. One of the books that really influenced me as I started to flourish with the pointed steel pen was The Ames Compendium of Practical and Ornamental Penmanship written by Daniel T. Ames. The book has been digitized and can be viewed online.
Offhand Flourishing is a peaceful and meditative process which involves creating beautiful pen strokes on the paper without pre planning the design. I start these projects with the idea of creating a border, heart, wreath or corner flourish, but other than the shape, I really don't have a vision in my mind's eye for the flourish.
Tools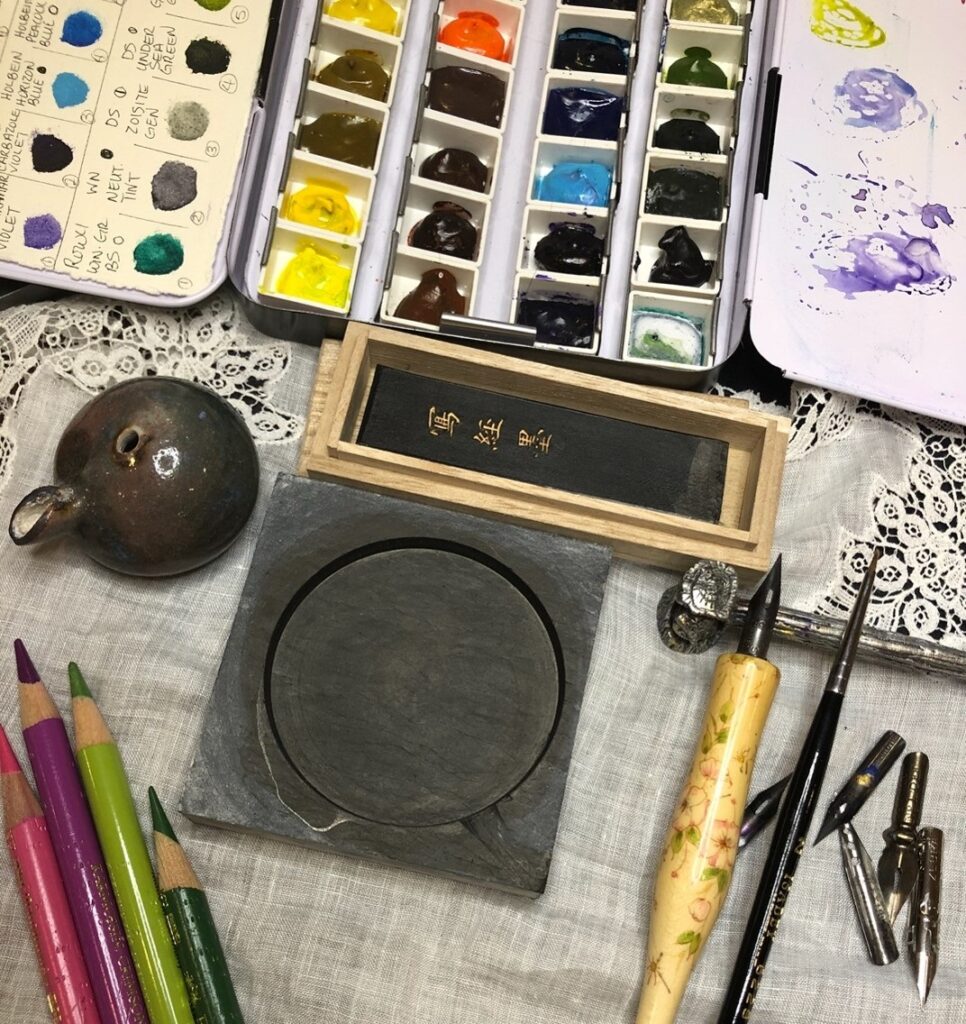 The pointed steel pen produces graceful and fluid strokes on the paper almost like lace work. Hairlines and shades are produced according to the pressure you place on the tines of the steel pen. Ideally, the swelled strokes or shades will be gracefully tapered, and the hairlines will be fluid and delicate. This finesse with the pen relies on using paper that reacts well to your ink and nibs of choice.
Over the years, I have experimented with using watercolour, gouache, stick ink, pigmented ink, walnut ink, iron gall ink and bleedproof white for the flourished designs. I do most of my work with iron gall ink or bleedproof white.
I recommend a straight holder that feels light and comfortable in your hand. A good pen nib to begin with is the Hunt 22 or the Hunt 101. Understand that finding the pen point that works best for you is deeply personal and can take quite some time to figure out along the way. You can take a look at the Ken Bromley Art Supplies selection of calligraphy pens here.
A Mindful Practice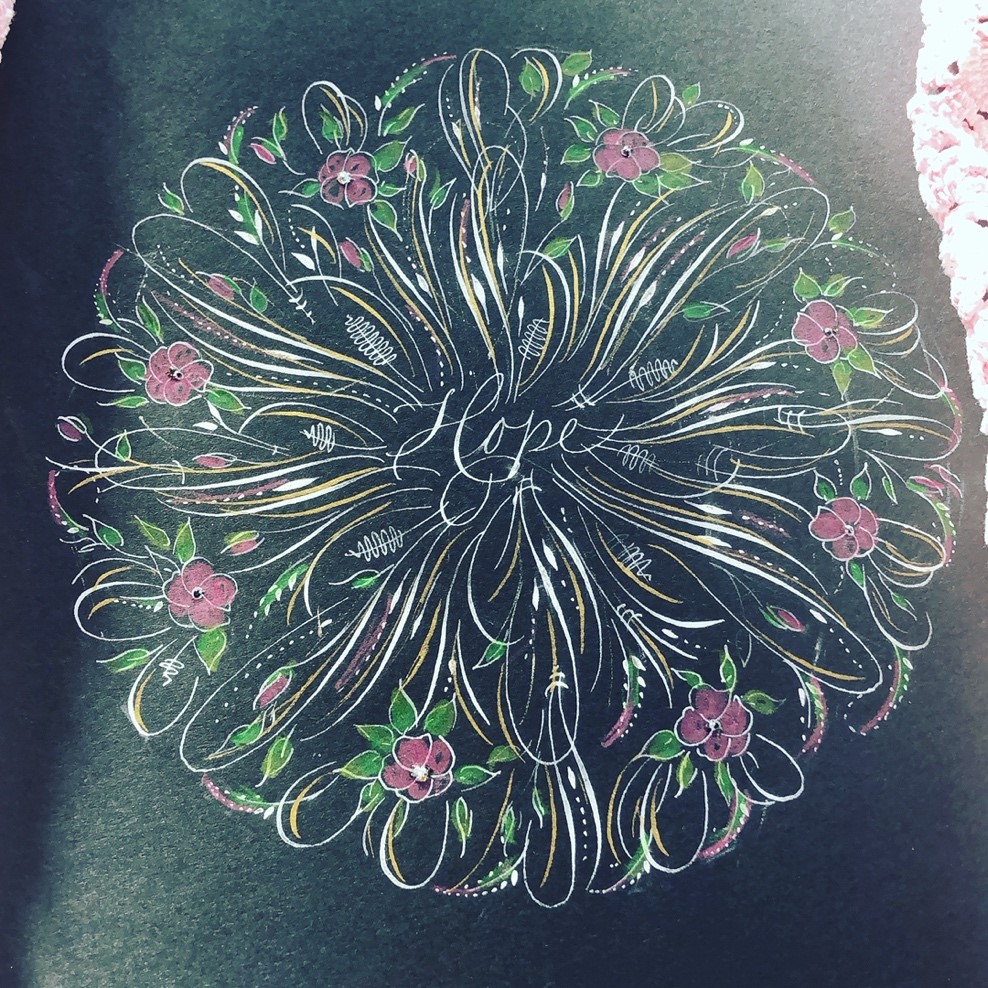 The process of flourishing is playful, calming and meditative. I tune my entire body into the process of creating these fluid marks on the paper. I am fully engaged with the process of flourishing as I work and when I leave my studio desk, I feel peaceful and relaxed and can be completely unaware of how much time has elapsed while I am working. It never feels like work to me, it constantly feels like play time. During this past year of lockdowns and stress, it has been such a welcome practice. I can feel a sense of calm come over me from the time I sit down to my desk and pick up my pen to work.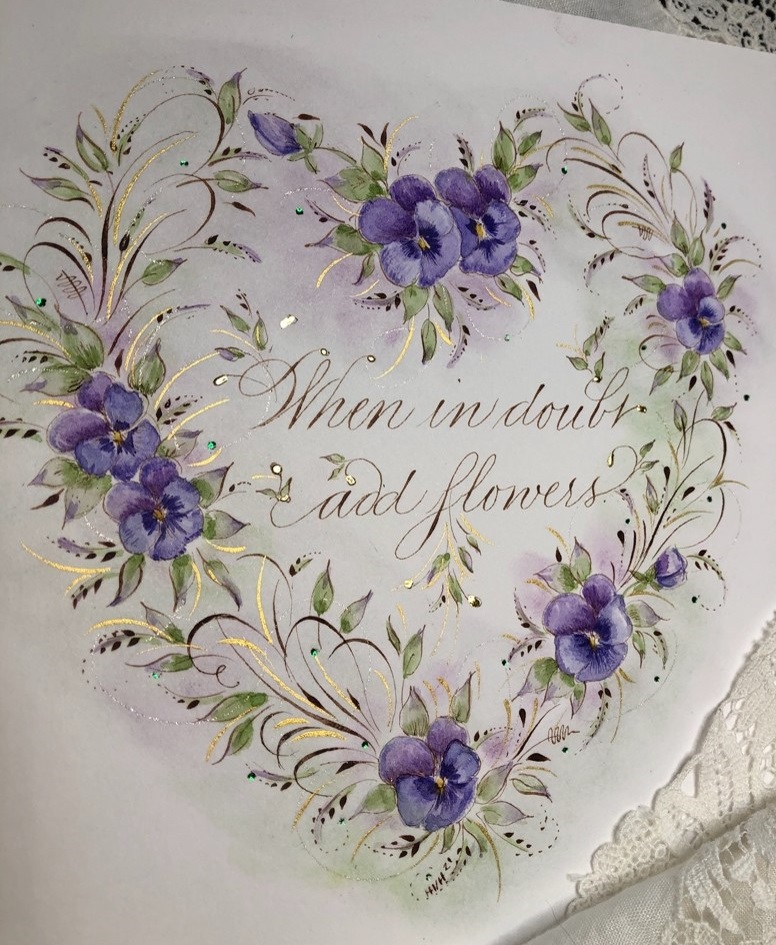 Although the flourish looks ornate and complex, it is constructed one stroke at a time. There really is no right or wrong way to approach this work but there are a few concepts you should keep in mind. Hairline strokes can intersect with other hairlines or shaded strokes. But you should not cross shaded strokes with other shaded strokes. I keep a light grip on the pen while I work and try to create the lightest strokes possible. I usually do not have a clear vision in my mind of what I am trying to construct when I flourish. I simply let them happen and grow on the page. I may create a simple outline like a circle or a heart and let that guide the outer edge of the design, but other than that outline, the designs start to grow organically.
Embellished Notes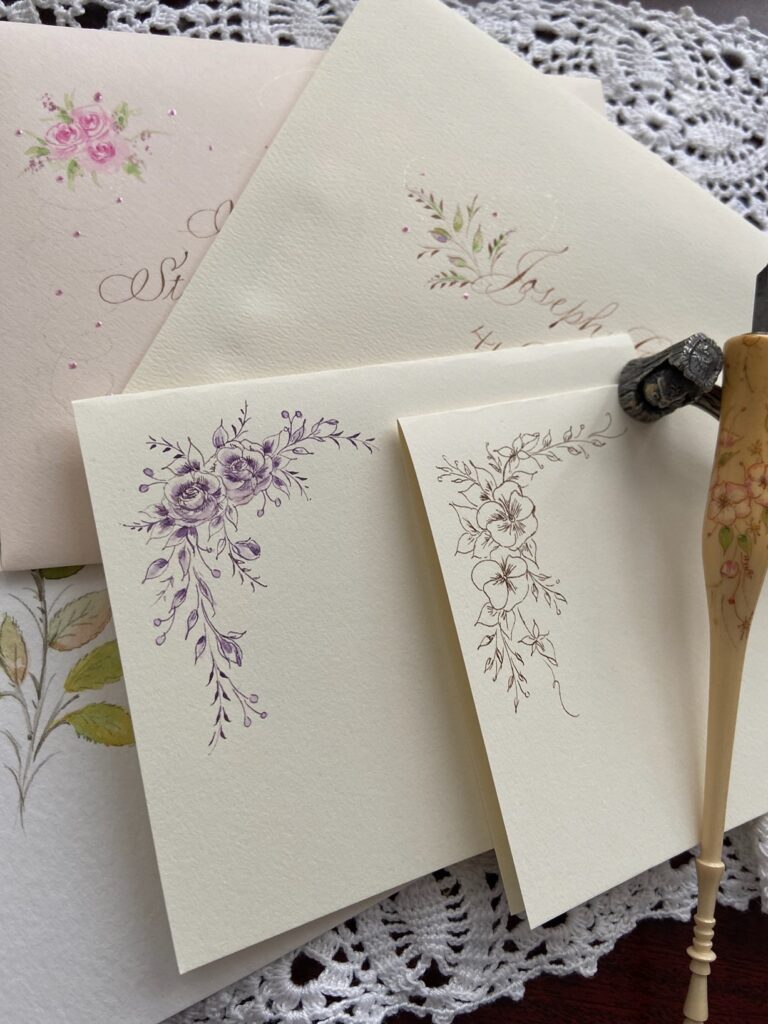 The flourish itself does not have to be overly ornate. A simple design can grace the corner of an envelope or note card. These make wonderful gifts to send to friends and family members.
There is a sense of letting go and allowing these designs to grow as they will on the paper. When I use watercolour to create a floral flourish, I allow the essence of the flower to emerge on the page without worrying about creating a true botanical design. I often begin my mornings by flourishing the corner of an envelope and note card. This serves as a warmup for my larger calligraphic projects of the day and also gives me the freedom to just create without any barriers or deadlines. It is pure play.
Colour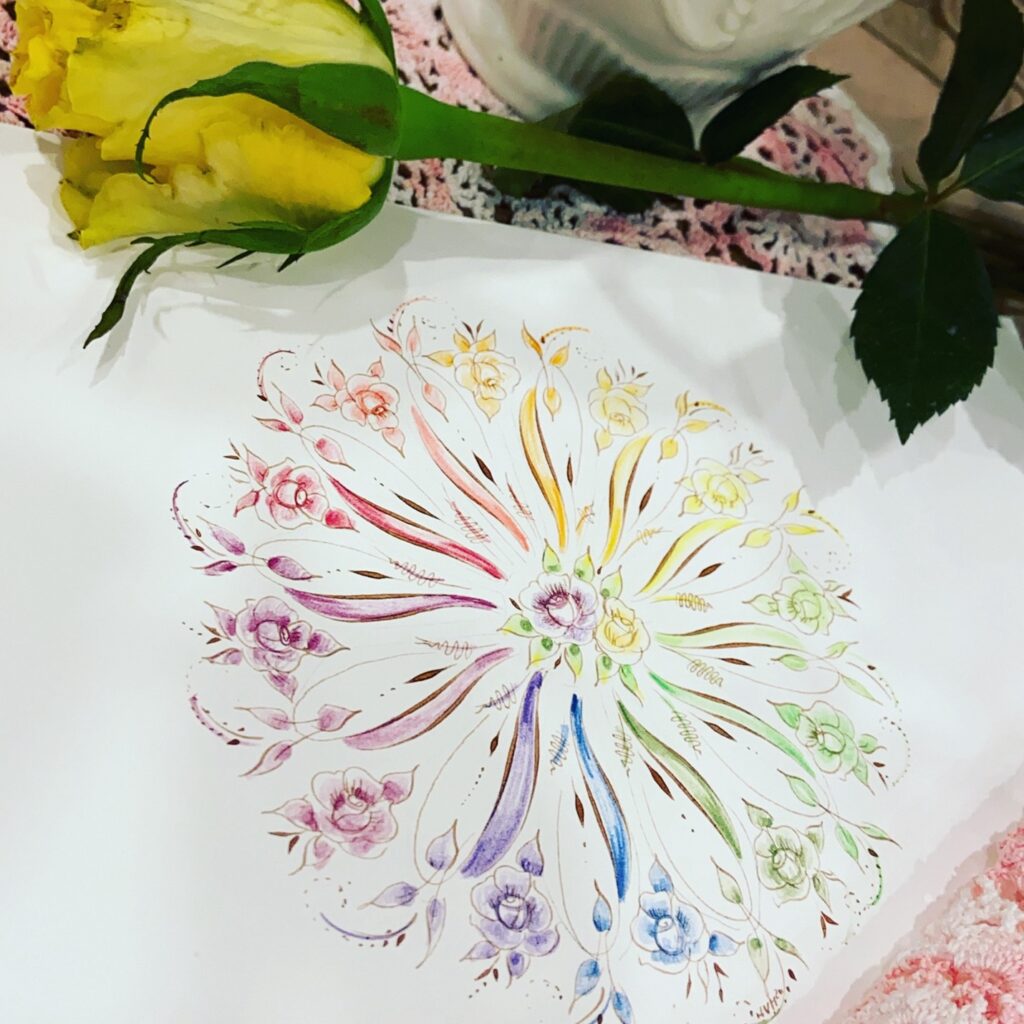 Adding colour to the flourish adds a sense rhythm to your design. The colour weaves through the design and provides visual impact. I will use Faber Castell Polychromos coloured pencils, Albrecht Durer watercolour pencils, watercolours and soft pastels to add colour to my designs.
If you are using watercolour, you need to ensure that your ink is waterproof before adding any water to your design. I use Isabey Series 6220 brush sizes 1,2 and 3 when I am adding watercolour details to my flourishes. The brushes are tiny and work well for precise details.
Hot Press Watercolour paper is a great choice for the pointed pen. I prefer to use Daler Rowney Langton Prestige paper for most of my flourishes that are embellished with gold leaf and watercolour. When I need a dark coloured surface, I often use Daler Rowney Murano paper which is a beautiful paper for the ink as well as the coloured pencils. Winsor & Newton Permanent White Gouache or Bleedproof White can be mixed to an ink like consistency for flourishing on dark paper. Metallic inks and watercolours also work well.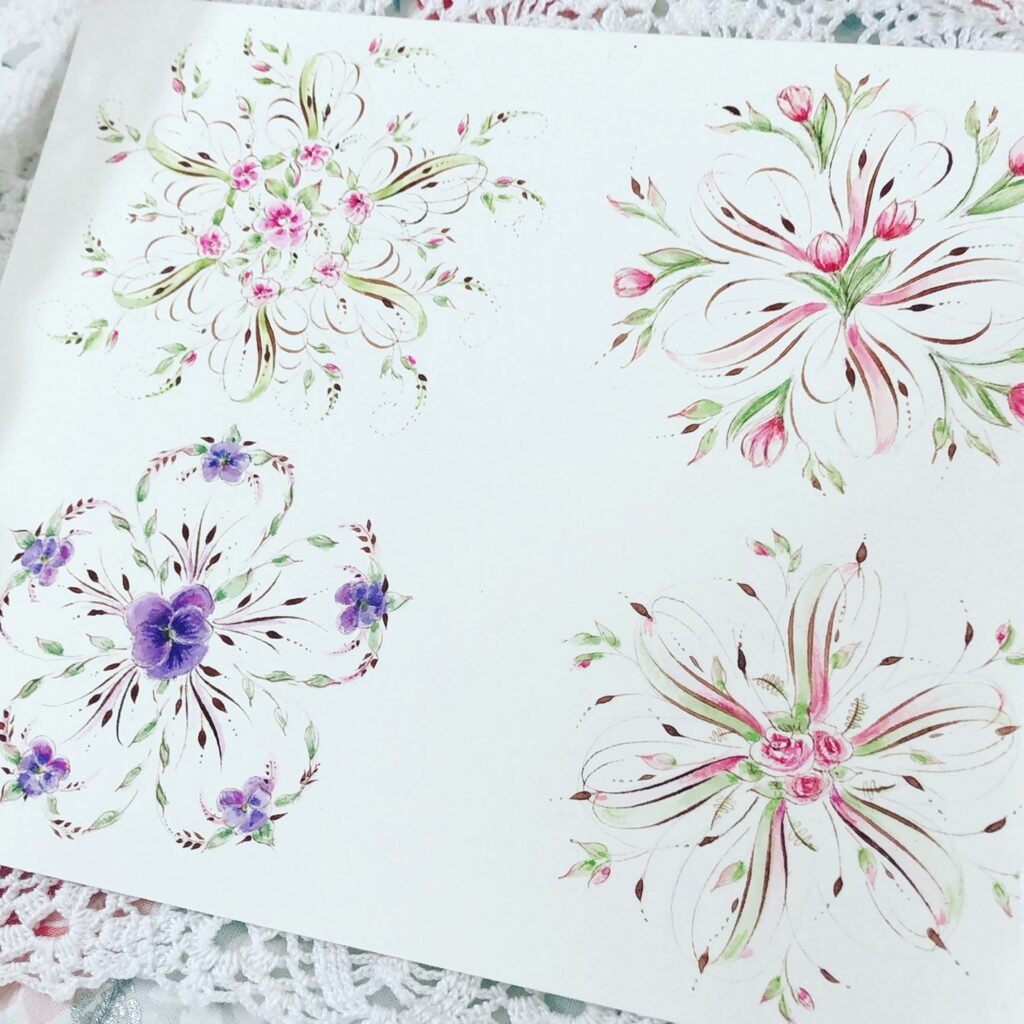 Pointed Pen Etching
If the more fluid curves of the flourish are elusive as you begin your pointed pen journey, you may want to try simply drawing with the pointed steel pen. I am heavily influenced by Victorian engravings and developed a simple way to lightly ink etch floral motifs on my paper. Any ink or writing fluid will work for this technique. If you add water to a non-waterproof fluid or ink, you can start to shade and tone these ink designs. The process is calming and satisfying as you watch designs grow on your paper. The Sweet Hope image below was pen etched with Prussian Blue watercolour and then lightly blended with water to add depth and tone.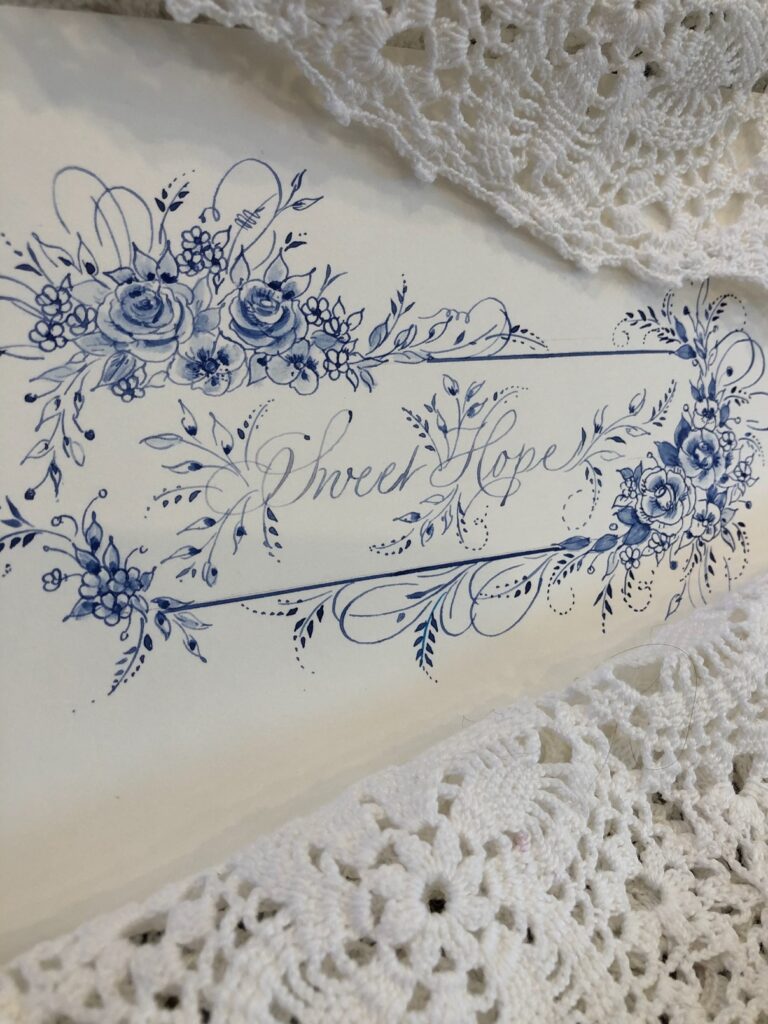 Play and Experiment
Start out with small and simple projects and gradually build up complexity. Take time to test the tools, inks and paints that you have at hand by creating marks on the paper and see what happens. Freedom to play and experiment is essential in this medium. Be patient with yourself as build up skills. I think you will start to build an awareness of a sense of calm that comes over you as you work which will encourage you to continue to practice. Enjoy the journey!
---
Heather Held has over 18 years experience with the pointed pen and regularly updates her blog at www.inkflourishes.blogspot.com with tutorials and advice for flourishing, gilding and painting.