Portraits from Persia – Exploring Art from the Qajar Period
The history of Iran is one that is marred by war, poverty and bloodshed. Indeed, the middle-eastern country has been battling civil unrest and controversy even in recent years. However, for much of the 19th century the country was able to enjoy relative peace, which allowed the residents to explore more creative activities, including painting and other artistic endeavours. This was called the Qajar period and it stood out as a time of change in both politics and art.
East Meets West
While heavily influenced by European ideas, the root of all Qajar art is based on traditional Persian themes, offering a more colourful and energetic aesthetic that was not too well received at the time. Artists were keen on making an impact with large-scale pieces and the introduction of painting with oil on canvas, while other art forms made use of brand-new and exciting technologies.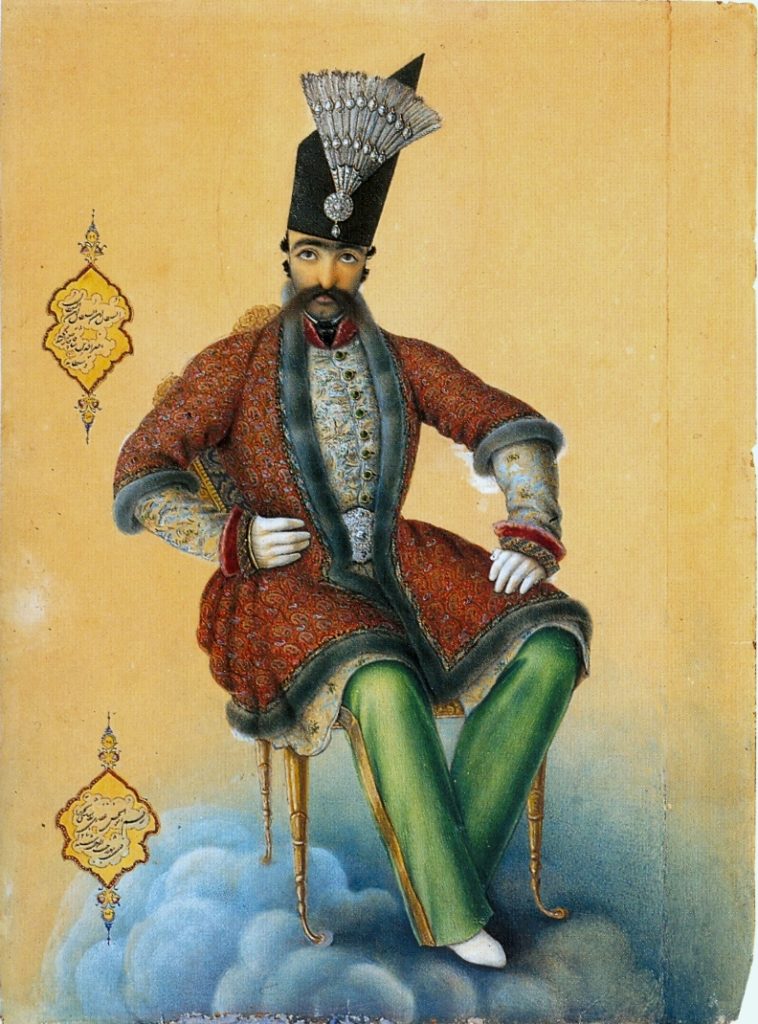 Despite the contemporary (at the time) influences, the Persians were very nostalgic about the past and many paintings focus on historical rulers and battles. The western influence on themes was more obvious in pictures of flowers, fruits and fields, with foliage designs often used to adorn portraits or narrative-style paintings. There were many paintings of high-class families, showing a young handsome husband, a beautiful wife and adorable child, but the depiction of women was often highly at odds with the strict Muslim ethics. Rather than showing them covered up in long flowing garments, as would typically be seen, the women are rarely wearing very much to cover their modesty. This is perhaps another sign of western influence.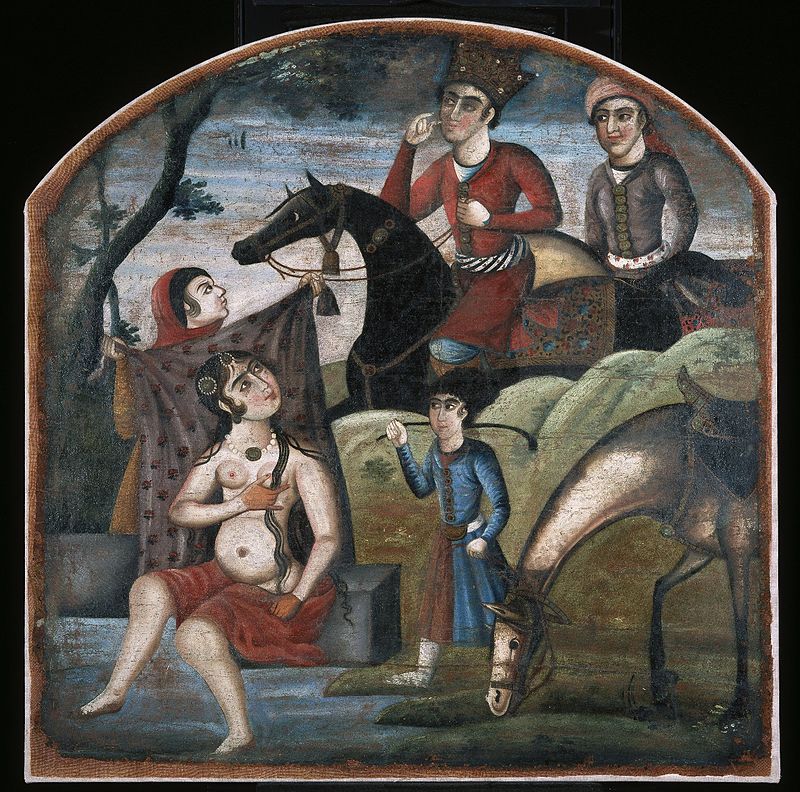 Taking inspiration from the European renaissance, many ceilings in domestic buildings would be painted with stunning murals, depicting groups of women, animals or impressive landscape scenes. The intricacy and detail of these murals made for magnificent adornments that would instantly draw the eye upwards.
Paintings of Royal Figures
Fatḥ-ʿAlī Shah was the first royal leader to promote the arts within Persia, gathering up a number of his preferred artists and commissioning paintings of himself. While artists of this period took great pains to ensure landscape paintings were made to reflect the real thing, portraits, particularly those of the royal family, were often idealised in an effort to please the subject.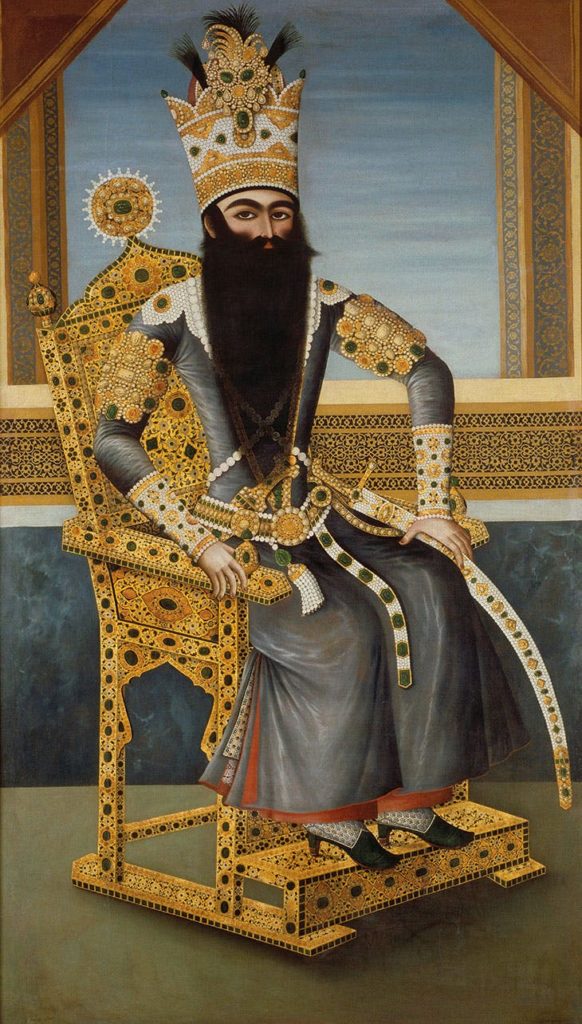 There are a great many portraits of Fatḥ-ʿAlī Shah, painted over the many years of his reign, some of which were gifted to leaders of other countries or significant Persian figures, as well as political rivals. They were all painted in a similar style, ensuring he was always surrounded by symbols of wealth, such as precious stones, and with a long beard, thought to be a sign of virility. The popular leader is believed to have fathered over 260 children, so the facial hair would have been a very important feature.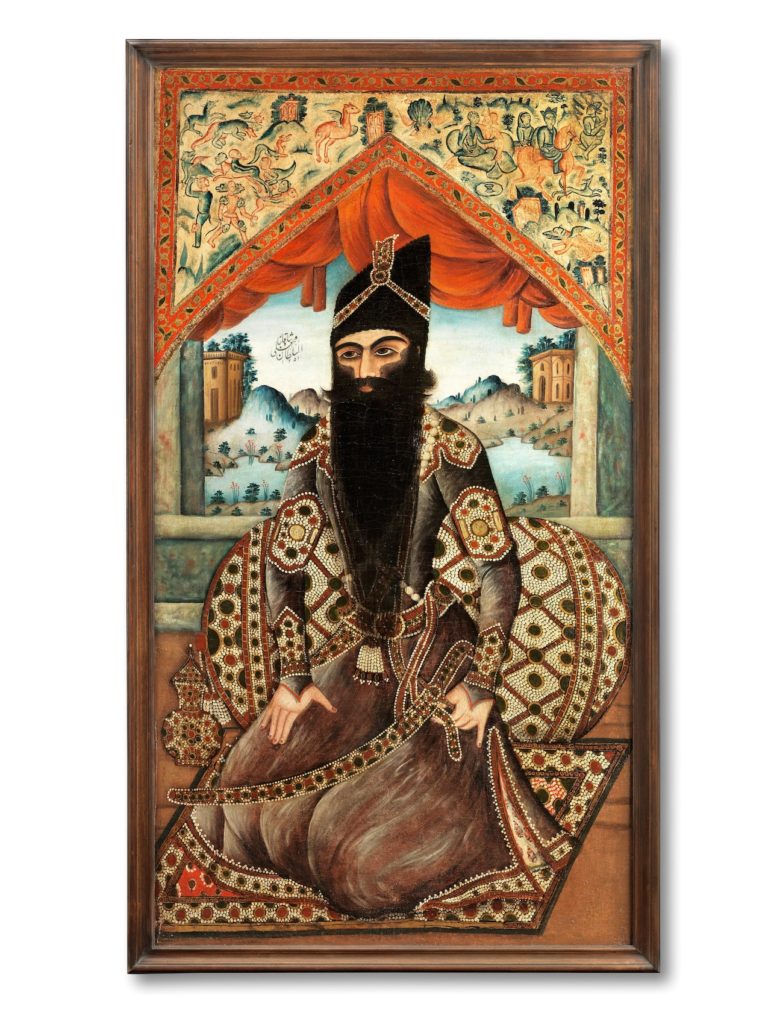 The paintings that are still surviving today sell for obscene amounts of money, with one image of the celebrated leader sitting on a jewelled bolster estimated to be worth around £500,000. However, there have been much more impressive sales of Qajar art, with one painting selling for £3million. Anyone who has ever dismissed art from the Persian period for being too garish and not in keeping with tradition was clearly mistaken!
Sources