On Test: Lyra Rembrandt Pencils & Strathmore Toned Paper
In this blog post Joanna Farrow puts the Lyra Rembrandt Charcoal, Sketching & Art Specials pencil sets through their paces. Joanna used Strathmore Series 400 Toned paper pads as her surface. Lets find out how these products performed.
---
The Lyra Rembrandt Pencil Sets

The variety of drawing materials contained in the Lyra Rembrandt sets and quality of the Strathmore Toned pads provides a good basis for experimental and finished artworks. They are suitable for beginners as well as more experienced artists, whether for land and seascapes, still life, figure drawing or portraits. Lets look at the sets in more detail.
Lyra Rembrandt Charcoal Set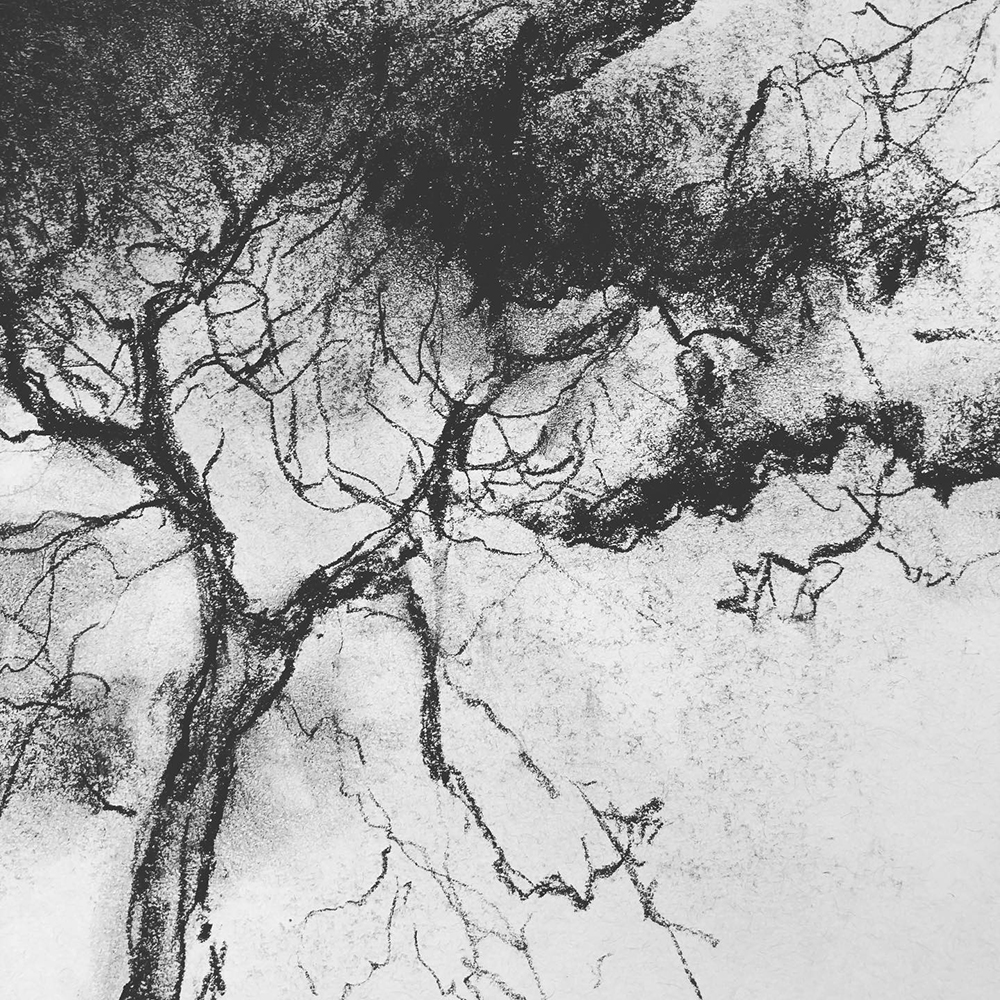 The Lyra Rembrandt Charcoal set includes 12 assorted charcoal drawing tools and accessories.
Hard and soft charcoal and carbon (a mixture of charcoal and graphite) pencils make this set perfect for all forms of charcoal drawing.

The 'paper blender' provides one way of smudging and smoothing charcoal and pastels around the paper. Use the tip for working over smaller areas or on its side for larger areas. Create a similar effect by using your hands or a piece of cloth or kitchen towel.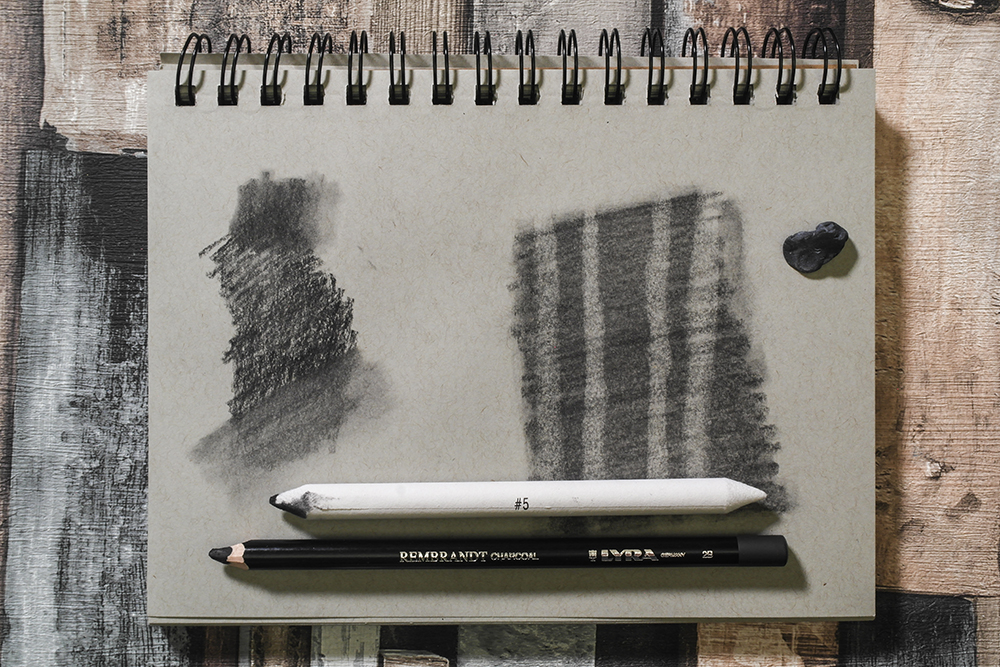 The kneadable, or 'putty' eraser works in the same way as a regular, solid eraser. Press or mould your putty rubber into different shapes for working on smaller areas. Use it to soften and blur areas and once blackened use it to make softer marks on the paper.
Create different marks with the two sizes of charcoal sticks by working with them flat or on their edges.
Lyra Rembrandt Sketching Set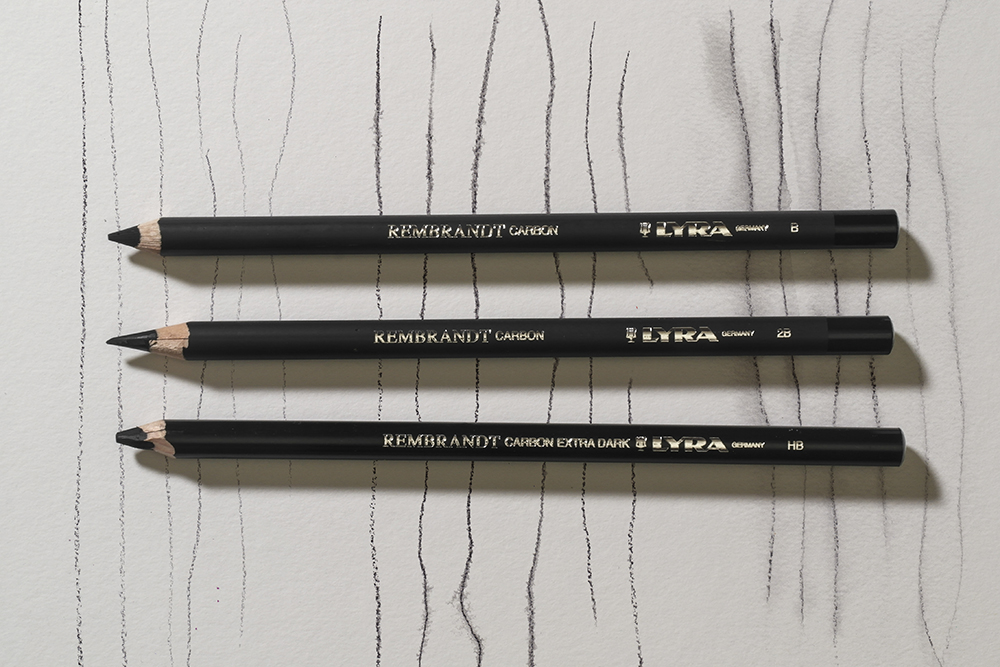 The Lyra Rembrandt Sketching set includes an assortment of high quality sketching pencils and sticks.
The sketching set is ideal for discovering the qualities of both charcoal and oil based pencils as well as natural charcoal and black and sepia pastel sticks.
Experiment with combining the different finishes you can achieve. The charcoal stick and pastel blocks are good for shading, both faint and dark, while the pencils add structure and form.
Work the hard pastel stick onto water misted paper for deep, rich solid marks. Use the stick like a paintbrush to push the wetted pastel around the paper. Once the paper is dry, add further detail onto the dried marks.
Lyra Rembrandt Art Specials Sketching Set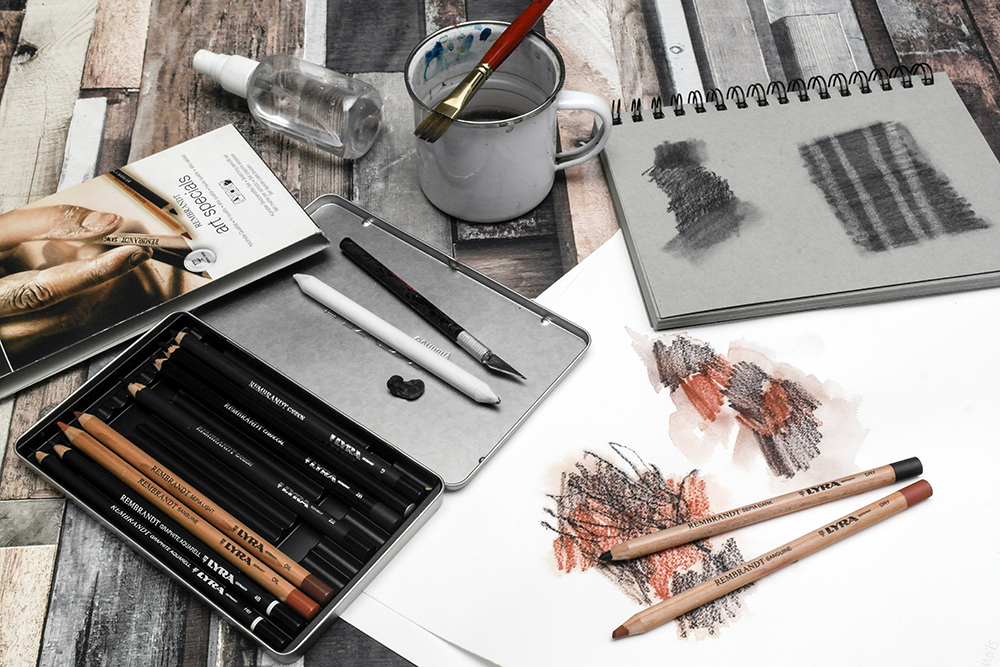 The Lyra Rembrandt Art Specials Sketching Pencil set includes an assortment of high quality drawing and sketching pencils.
This set is perfectly designed for artists wanting to explore the qualities and uses of different types of pencils.
The two shades of oil sketching pencils provide deep tones that don't smudge or blend. They are therefore good for outdoor sketchbook drawing when you might not have access to a fixative.
Carbon pencils, (combining charcoal and graphite) are less 'smudgy' than a softer charcoal pencil. They're ideal for linear studies, and you are able to still rub out and partially blend them.
Use Graphite Aquarell dry or wet. Try drawing with them onto paper that you've sprayed with a water mist. Or use them dry and then brush with water to create a slightly watercolour, inky finish.
Use the sanguine and sepia dry pencils dry or like the aquarelle, with water.
The white pastel pencil has a dry, chalky texture that blends well with the charcoal and carbon pencils to create softer, grey tones. Try layering white pastel over charcoal and visa versa.
Strathmore Series 400 Toned Pads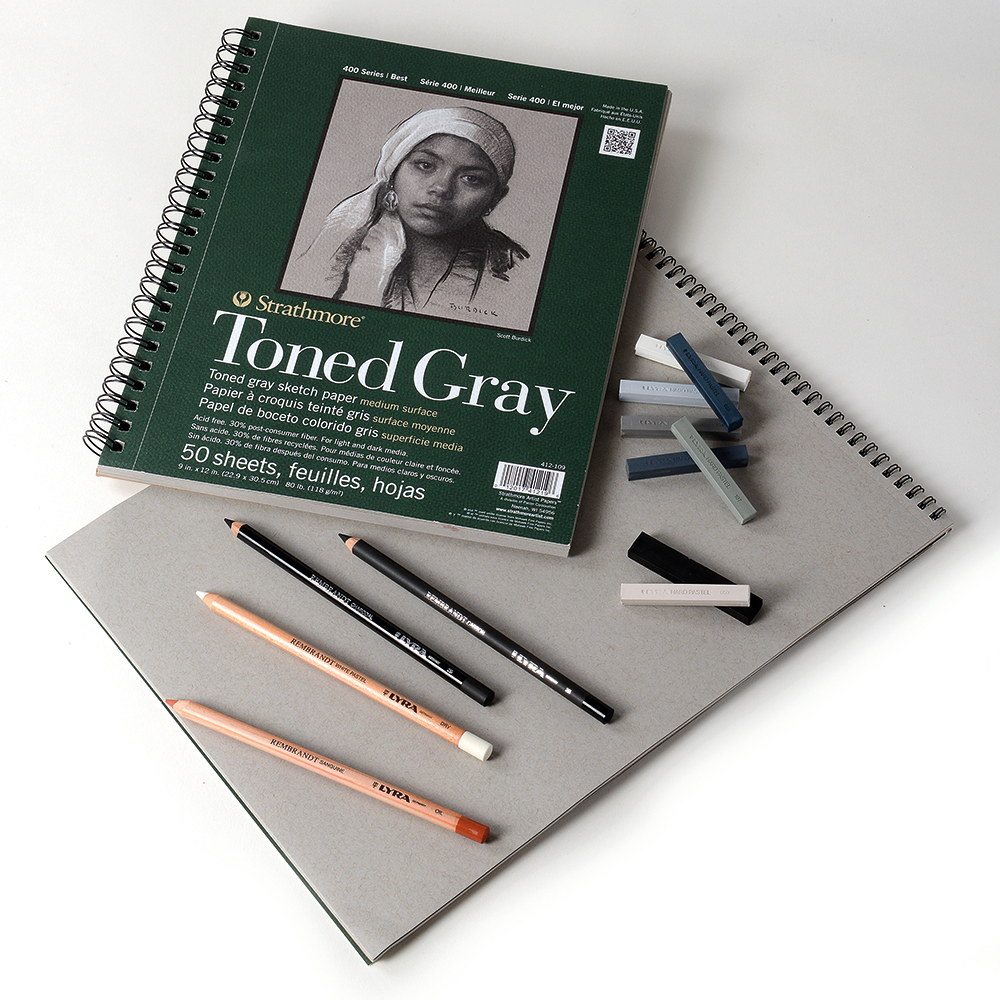 Strathmore Toned pads are 118gsm Spiral Bound Sketchbooks. They are suitable for a range of drawing and sketching techniques.
This colour paper is mid-toned, meaning that you do not need to render those middle values yourself. Utilise the medium tone of the paper to deliberately place the darkest of shadows or the brightest of highlights. This technique saves time and allows you to emphasise those dark and light value. For dramatic effects use this paper with the darkest graphite or charcoal and white or pale toned pencils, and really make your drawings pop!
The Test Results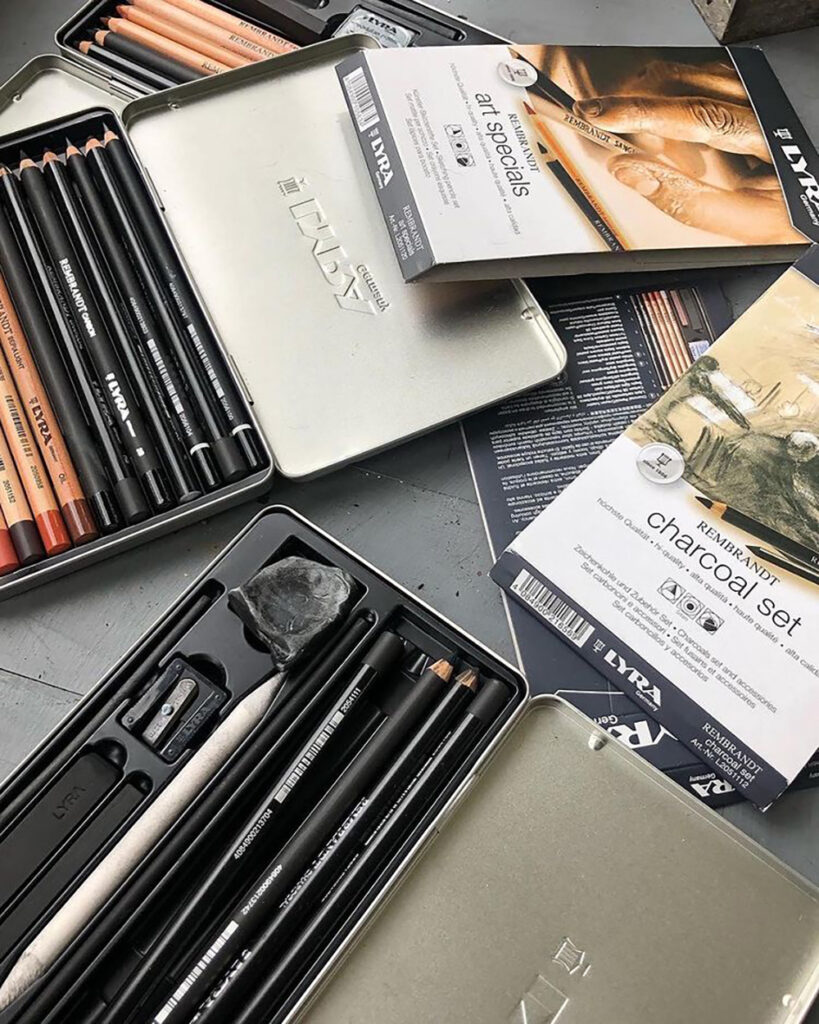 All of the drawing sets provide enough soft, medium and hard leads to create a variety of marks and textures on the paper. Personally I found the charcoal set the most suited to my drawing style as I use both charcoal and graphite pencils in my landscapes as well as the sticks and blocks. The quality of both papers is good. Their mid tones provide a good basis for adding light highlights and dark marks that a white surface doesn't provide.
I found the papers smooth and easy to layer contrasting tones over. The areas of the paper left plain were of sufficiently good quality and showed the texture of the paper. My personal preference is to use white paper for drawing but I can appreciate the advantages of the tonal papers, particularly as a draw for new artists.
So, by now you might have picked one of these pencil sets and are raring to go with a drawing! Make sure you check out my blog post Top Tips & Techniques For A Successful Drawing for some helpful advice on creating some great drawings.
---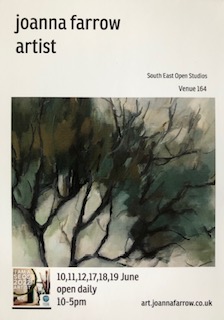 After completing a fine art diploma as a mature student, Joanna Farrow decided to concentrate on painting. She works both in her home studio, as well as at workshops with other artists in order to inspire and develop her ideas and processes. A lot of Joanna's work is on canvas though her mediums are becoming increasingly diverse as she experiments with various mixed media to increase her scope of techniques and skills. Joanna has exhibited at various art fairs and is represented by galleries in the South East.
Visit Joanna's website here www.art.joannafarrow.co.uk and keep up to date with her on instagram.
Joanna is taking part in the South East Open Studio event in June 2022, find more info here www.seos-art.org.