How to Paint with Cold Wax Mediums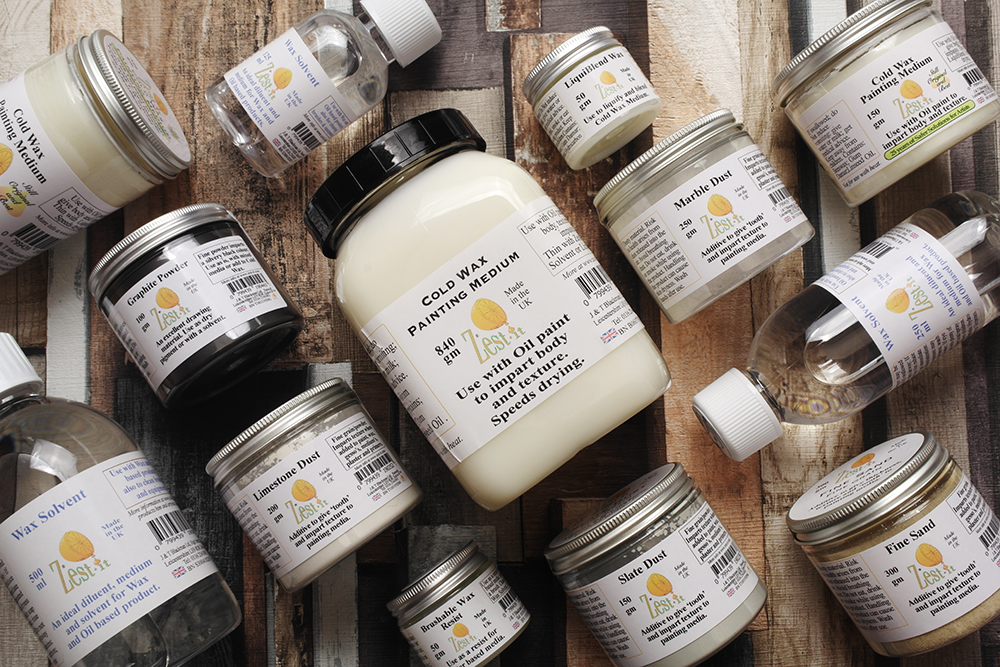 Zest-It Cold Wax Painting Medium is a thick wax-based painting additive you can use to add body to oil paints and pigments. Use alone or with our range of Zest-It cold wax solvents and powders to create layers of texture in your oil and mixed media paintings.
Zest-It Cold Wax Painting Mediums are a range of waxes, solvents and powders that can be used to add textural interest to your oil and mixed media paintings. These mediums are fantastic to experiment with if you find yourself stuck in a creative block. There are loads of different ways you can apply them! Use them to increase the workability of your oil paints while adding body and speeding up drying. Mix them with pigments or powdered metals to create thick painting pastes. You can even use cold wax as a final 'varnish'. In this post we aim to answer all the questions you may have about this exciting medium. Click the headings below, or read ahead to discover more!
---
What is Cold Wax Painting?
Cold Wax Painting is an experimental, almost sculptural painting technique. Although artists do use it with pigment alone, it is most often seen in combination with oil paint. Cold wax paintings can range from those that use minimal amounts of wax to those that are predominantly wax. Typically cold wax paintings feature lots of texture as the medium allows you to build up layers, scrape back colour and create glazes. Unlike encaustic, another type of wax painting, cold wax painting does not require the use of heat.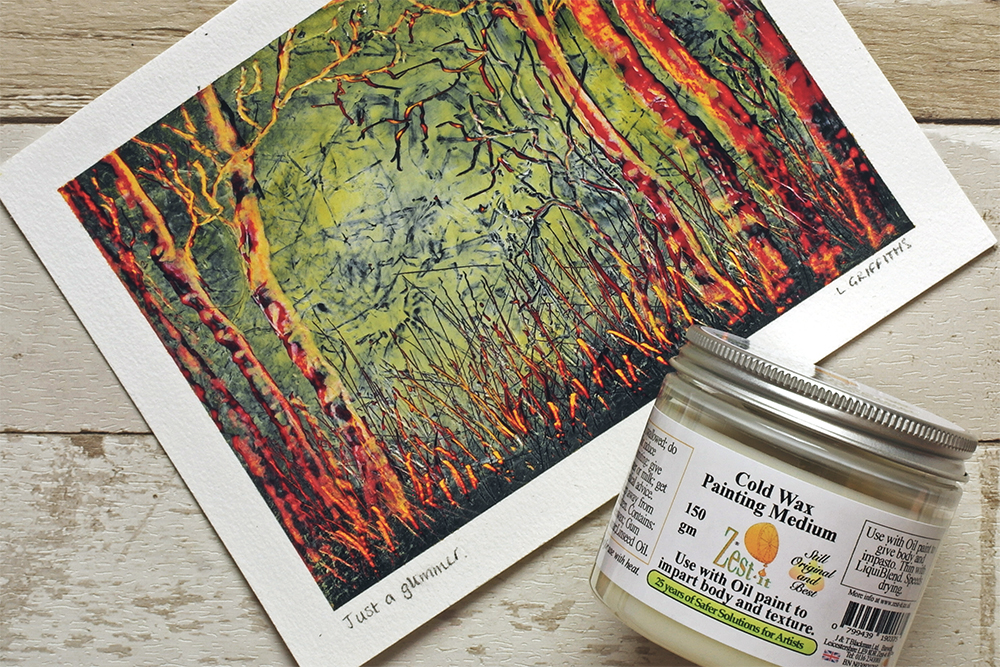 Historically, use of wax and pigment has been a known practice since prehistoric times. Animal fats and earth pigments have been seen in cave paintings all over the world. Today's wax mediums allow artists to enjoy the properties of working with wax, while the newest chemical and manufacturing technologies produce a product that is both consistent and stable.
What are Cold Wax Painting Mediums?
Our Zest It Cold Wax Painting Medium range comprises a selection of waxes, solvents and powders that you can use to create texture in your artwork.
Waxes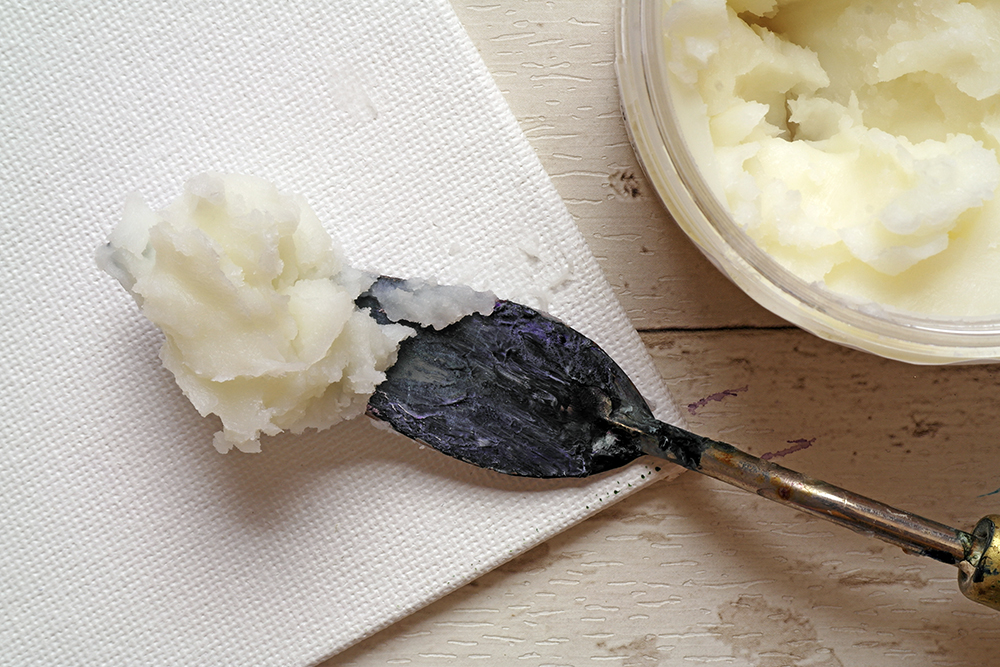 Zest-It Cold Wax Painting Medium has a thick, firm, paste-like consistency and is made from Beeswax, Linseed Oil and Damar. These ingredients work together to give the medium its unique properties. Damar increases the melting point of the beeswax and strengthens it. While the Beeswax protects the Damar from oxidisation and increases flexibility. When mixed with oil paints it increases workability, adds body and speeds drying time. Powdered pigments are also suitable for use with cold wax medium. Because of its thickness, this medium works brilliantly with knives and thick bristled brushes. This medium dries to matt finish.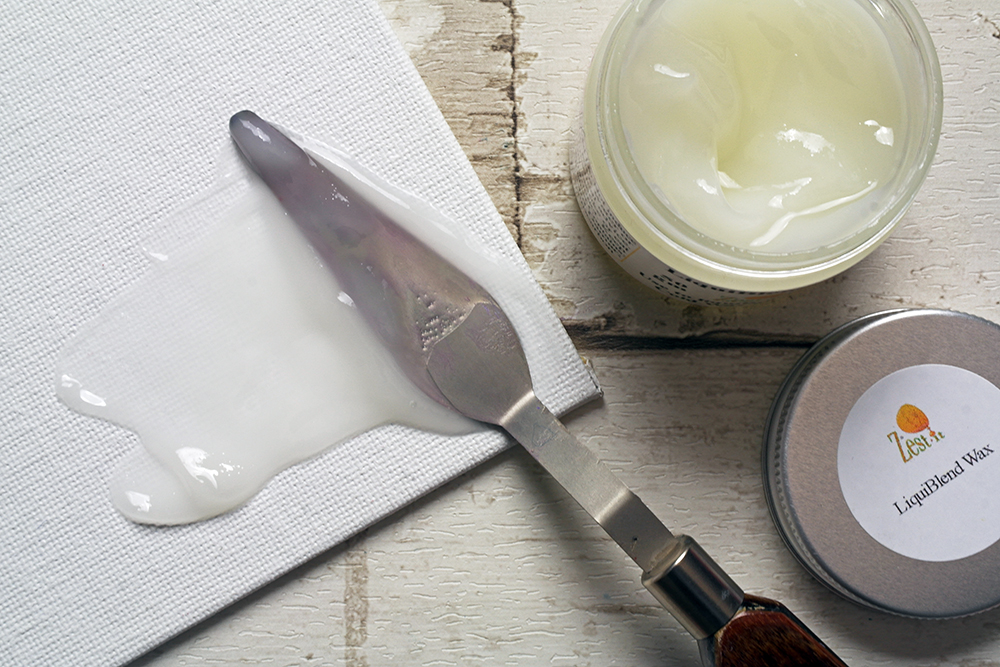 Zest-It LiquiBlend Wax is a wax-based medium that you use to thin Cold Wax Painting Medium. It is also made with a mixture of Beeswax and Damar. When mixed in with Cold Wax it gives it more liquid working properties, while still maintaining the integrity of the wax. Use Cold Wax thinned with LiquiBlend if you want to achieve easier blending. This medium has a creamy white colour and a more fluid viscosity.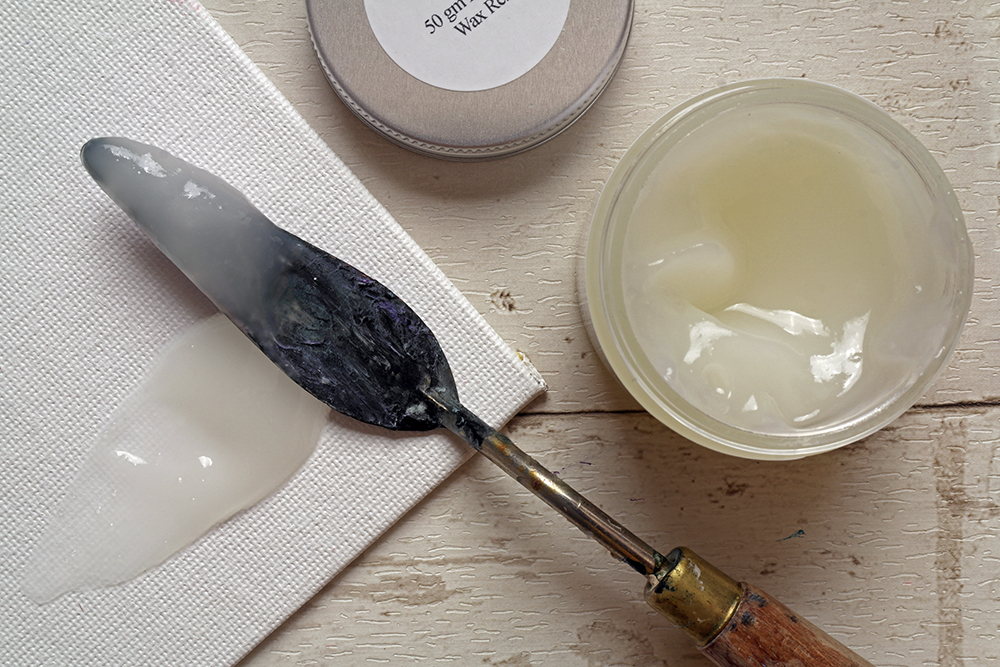 Zest-It Brushable Wax Resist is a fluid wax that you can apply with a brush, sponge or colour shaper. Thin with Wax Solvent, and it will also be suitable for use in a dip or ruling pen. You can apply it to paper, wood or other porous surfaces and it will resist any layers of water-based paints or inks that are layered on top. It is perfect for use with watercolour, and can even be used in a squeezy bottle for Batik effects on paper and fabric.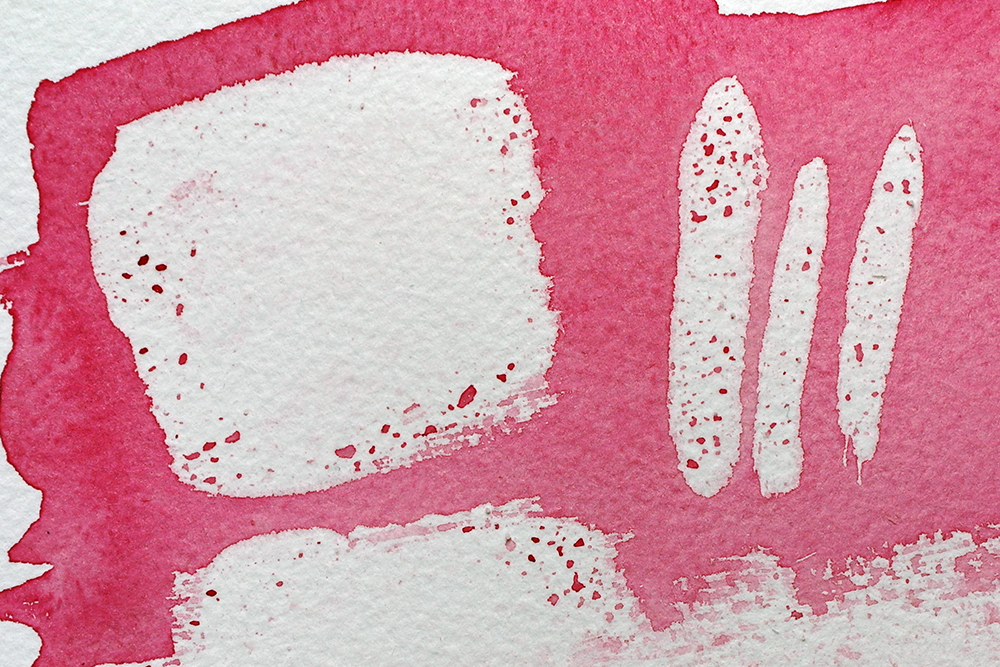 Brushable Wax Resist on watercolour paper with watercolour wash.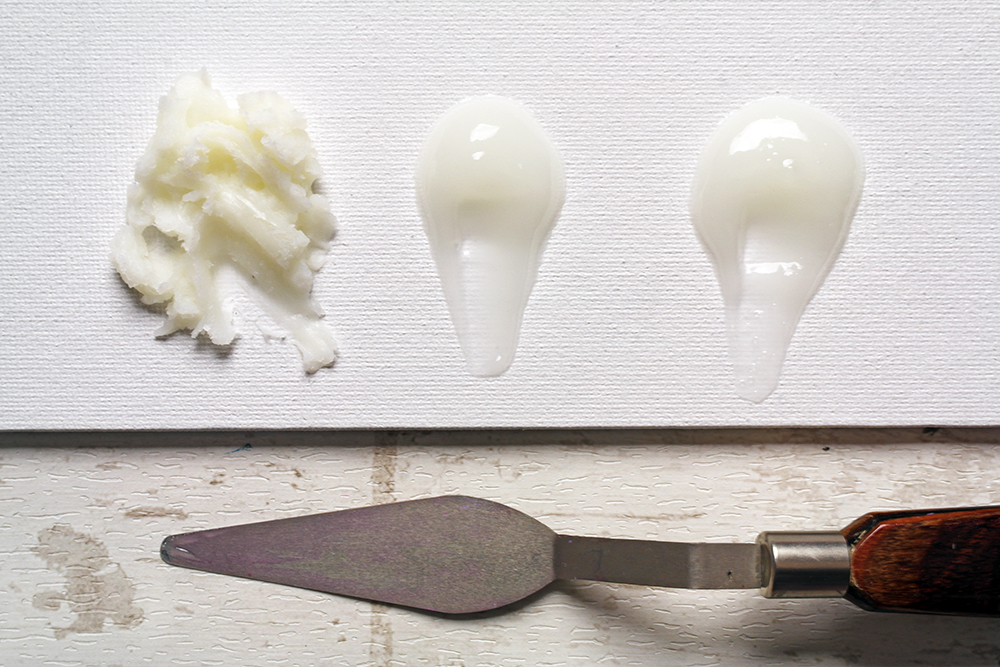 Photograph showing the viscosities of Zest It Cold Wax Painting Medium, LiquiBlend Wax and Brushable Wax Resist (from left to right)
Wax Solvent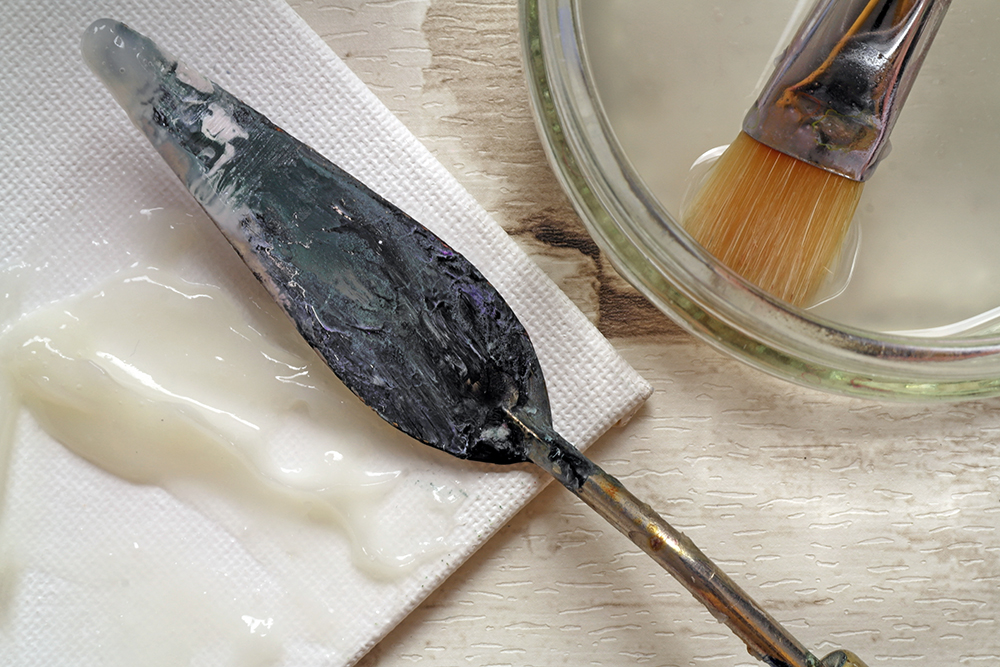 Zest-It Wax Solvent is a diluent specially formulated to thin wax-based mediums. You can use this medium if you're looking to paint glazes or drizzles of colour. This solvent is non-toxic, non-flammable and is low in volatile organic compounds. This means you will lose little of the solvent in the way of fumes. It has a slight yellow colour and a mild citrus smell. You can use Wax Solvent over and over again. Simply leave your used solvent to stand, and decant off the clear liquid as the paint solids fall to the bottom.
Texture Powders & Dusts
Graphite Powder, Fine Sand, Limestone Dust, Marble Dust and Slate Dust are additional mediums you can use to add texture to your cold wax paintings. They differ in their colour and particle sizes. Some, like the Limestone Dust, have quite a fine powdery texture whereas others, like Fine Sand, have a more gritty texture.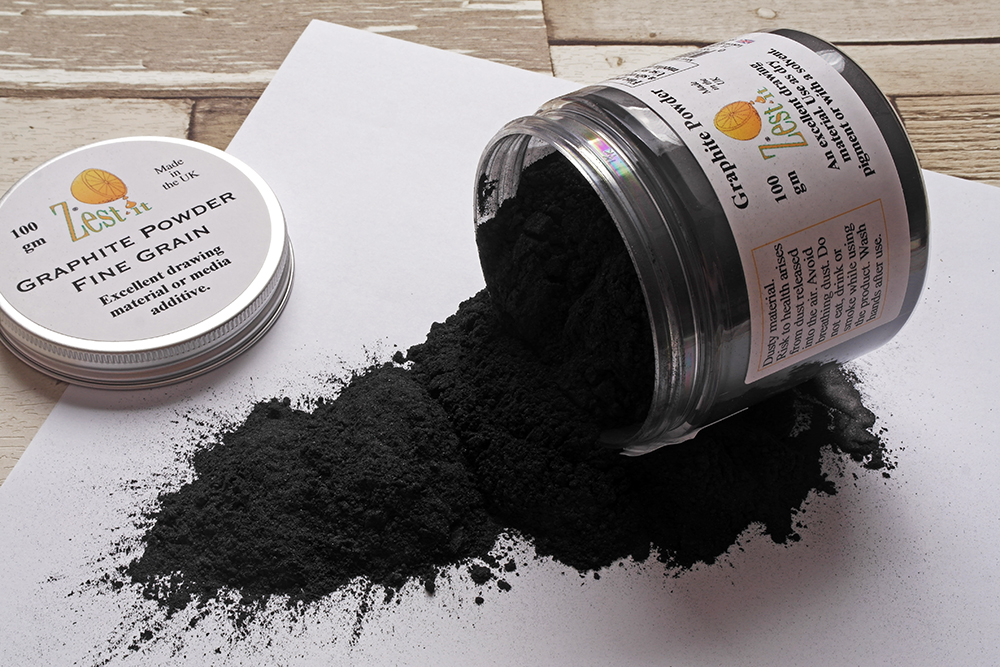 Some of the powders impart a slight colour to your mixes. Graphite Powder is quite dark so will colour your mixes quite dramatically. Slate Dust has a subtle grey colour that can cause some shift in colour. Use them alone or mix to create gritty textures in your paintings.

All five of the Zest-It Powders and Dusts (from left to right) – Marble Dust, Limestone Dust, Fine Sand, Slate Dust and Graphite Powder.
How to Use Cold Wax Painting Medium
Cold Wax Medium can be used in all kinds of wonderful ways, but the first step you will need to take is learning to mix your paints with the medium.
Mixing Cold Wax Painting Medium with Oil Paint
Cold Wax Painting Medium and Oil Paints work together beautifully. When combined, the wax medium gives oil paint more body and increased workability. The mixing ratio you use will ultimately be down to personal preference, but a good place to start is a simple 50:50 ratio. The more wax you use in your mix the more translucent your paint will be. Painting Knives are effective in making sure your wax/paint mixture is thoroughly mixed before applying it to your painting surface. Although the medium looks white in the tub, it will not tint your colour.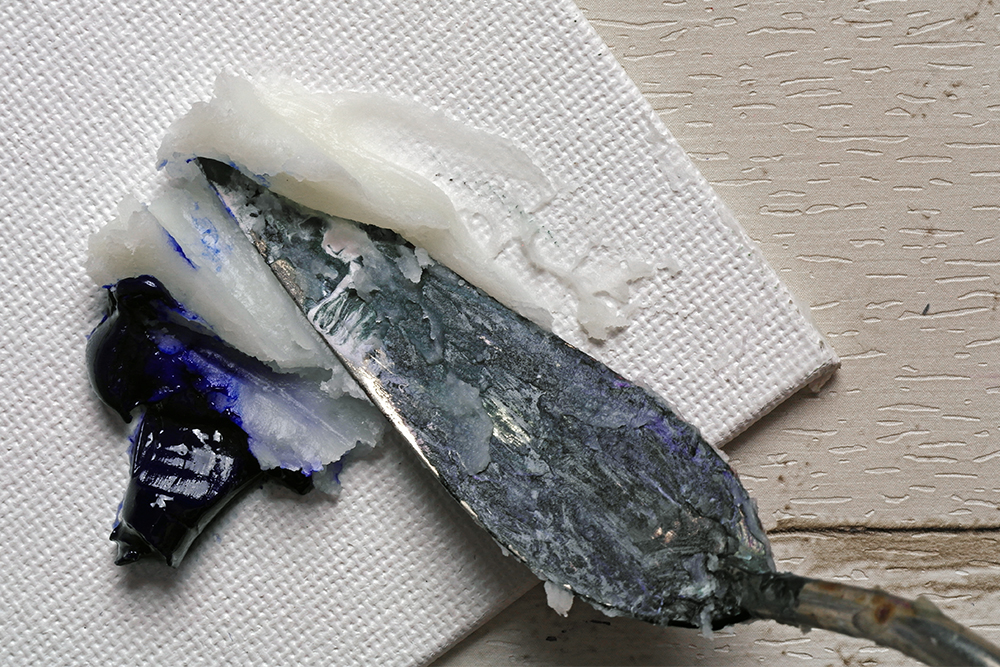 Cold Wax Medium is compatible with all traditional oil paints, including quick drying alkyd oils. Our own Ken Bromley Artists' Oil Paints work particularly well with the medium. Water Mixable Oil Paints can be used with cold wax, however you would need to use them like traditional oils – essentially using them without water. Water and wax don't mix – although they may seem to mix in small amounts, it will weaken the paint structure. This can cause oil/wax/water movement over time which will result in damage to your painting.
Mixing Cold Wax Painting Medium with Powdered Pigments
Cold Wax Painting Medium can be mixed with powdered pigments to create a paste-like, wax-based paint. The pigment does have a shortening effect when mixed with wax. As you mix it in you will notice that the wax becomes more firm, less creamy and sometimes a little grainy. This firmer mixture can be used to paint, but if you prefer your paint a little less thick you can add a drop of Linseed Oil or Wax Solvent.
Pigment can be mixed in with the medium like you would an oil paint. Simply add a blob of medium to your palette and add in as much pigment as you will need. Painting knives are excellent for mixing in the colour thoroughly. Alternatively, you can apply a layer of wax to your paper or canvas and then sprinkle pigment on top. The wax is sticky, so the pigment will adhere quite well. You can use a roller to gently work the pigment into the wax.
Surfaces for Cold Wax Painting
For the best results, Cold Wax Painting medium it is best to use a slightly absorbent surface. Both rigid and flexible surfaces are suitable, so you can paint on paper, canvas or panel. All our stretched canvases and canvas boards are pre-primed ready for use with oils as soon as they are in your hands. Ampersand Gessobord also make a great surface option if you're looking for a rigid support.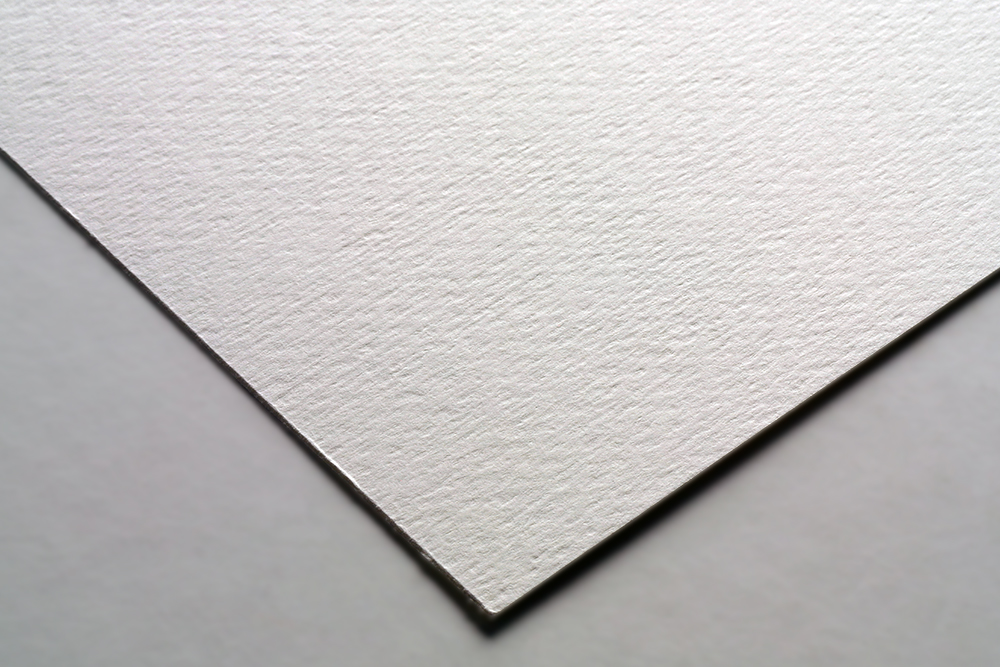 Working on stretched canvases and boards can quickly become costly, especially if you are testing out the medium or working to a budget. Papers primed for oil painting are a great alternative and are much more economical. Our Fabriano Pittura Paper and Arches Huile Paper are particularly popular for this purpose.
Tools and Brushes for Applying Cold Wax
Oil Paints and pigments mixed with Cold Wax are quite stiff and difficult to work with a brush. Because of this many artists choose to lay down their initial layers of colour with a silicone spreader, painting knife or brayer. You can work into these initial layers with other tools to scrape away colour and create texture.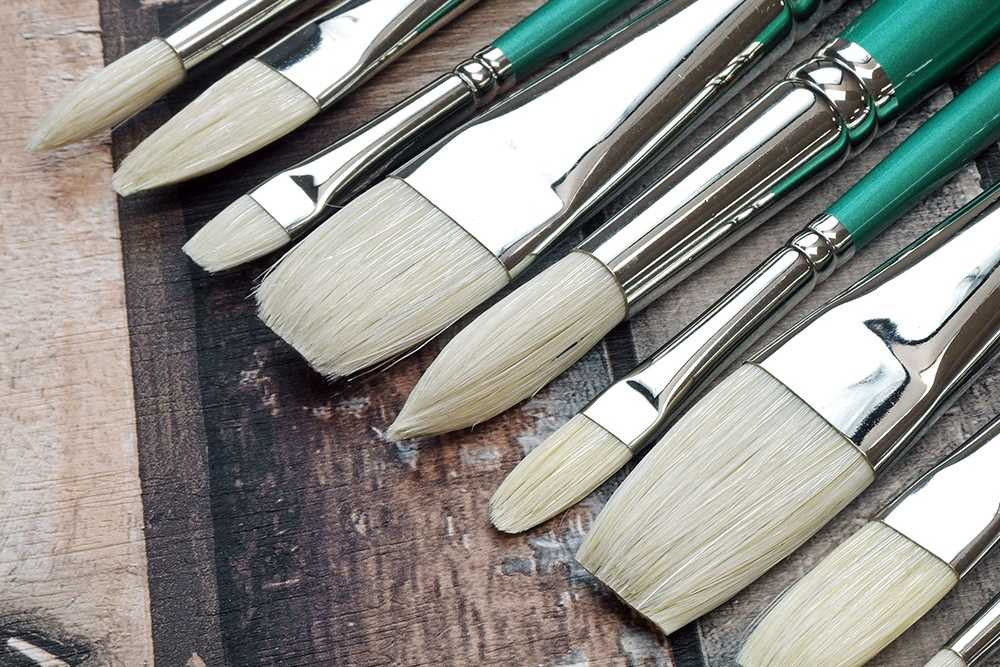 You can use a brush to manipulate the paint but it would need to be very stiff in order to move the paint around. It is best sticking to natural bristle, hog hair brushes as they are hardy enough to stand up to exposure to solvents and are stiff enough to manipulate your paint.
Cold Wax Painting Techniques
Experimentation is key when you're working with cold wax medium. Once you're comfortable with cold wax, expanding your technique to use aggregates and unusual paint applications can create some surprising and interesting results.
Use powders, aggregates and dusts to create texture.
Zest-it's own range of powders and dusts are great to experiment with if you're looking to create even more body and texture in your paintings. Each powder brings it's own unique texture to the paint, so it's well worth playing around with a few of them to see which kinds of effects they can create. The slightly gritty texture they create is fantastic for capturing natural forms and organic textures.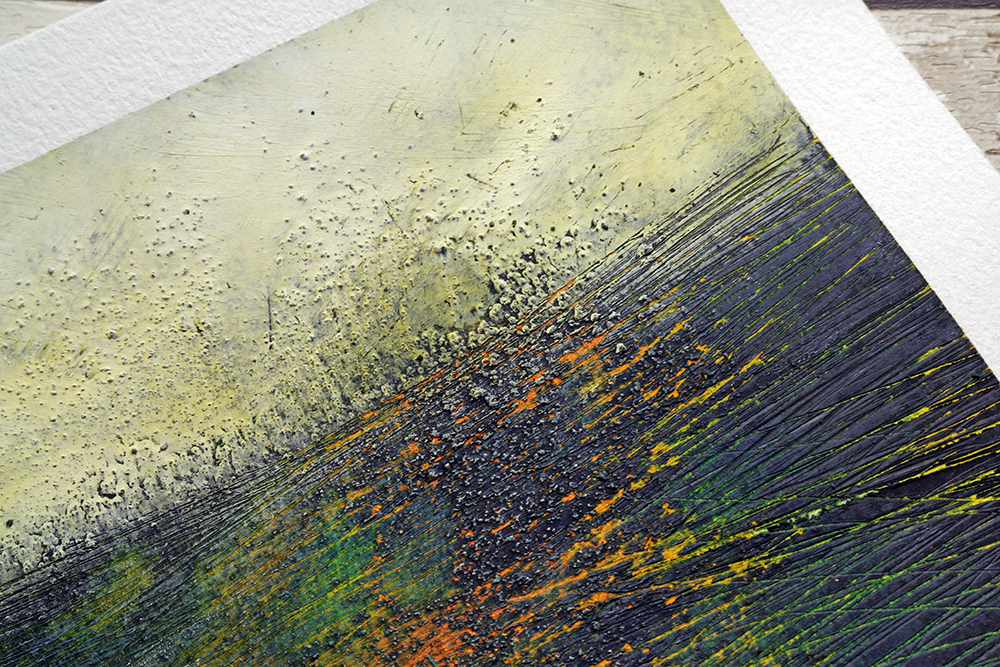 Using a combination of oil paints and pigments.
Cold Wax Painting Medium works equally well with both oil paints and dry pigment. Try introducing both paint and pigments into your work to see how their working properties differ. Our Pearl Ex Powdered Pigments are perfect for adding metallic highlights and shimmering details. Their reflective qualities can add depth to paintings that changes with the angle of observation.
Trap collage materials between layers of wax.
Cold Wax Medium is fantastic for creating mixed-media collages. You can apply the medium in layers in which you can trap all kinds of things. Try using pigment powders between layers, add in small glass beads or collage materials to build up a sculptural piece full of texture. Cold Wax is perfect for use as an adhesive to stick down decorative papers between the layers in your painting. If you are working with paper try to stick to lightweight options as they work the best.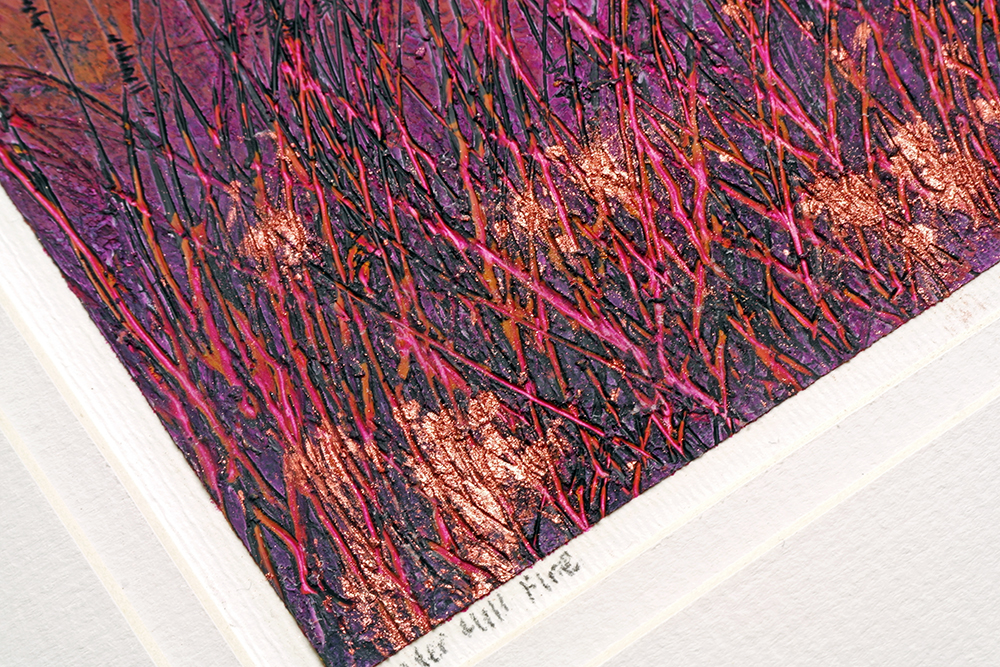 Use a sgraffito-like technique to carve patterns and texture into the paint layer.
Cold wax has a thick texture that you can easily carve into once it is on your canvas. Try scratching into the surface with palette knives or the handle end of a paint brush. If you apply tinted wax over a coloured ground you can scratch into the top layer to reveal the colour below. Experiment with different carving tools to see the range of marks you can create.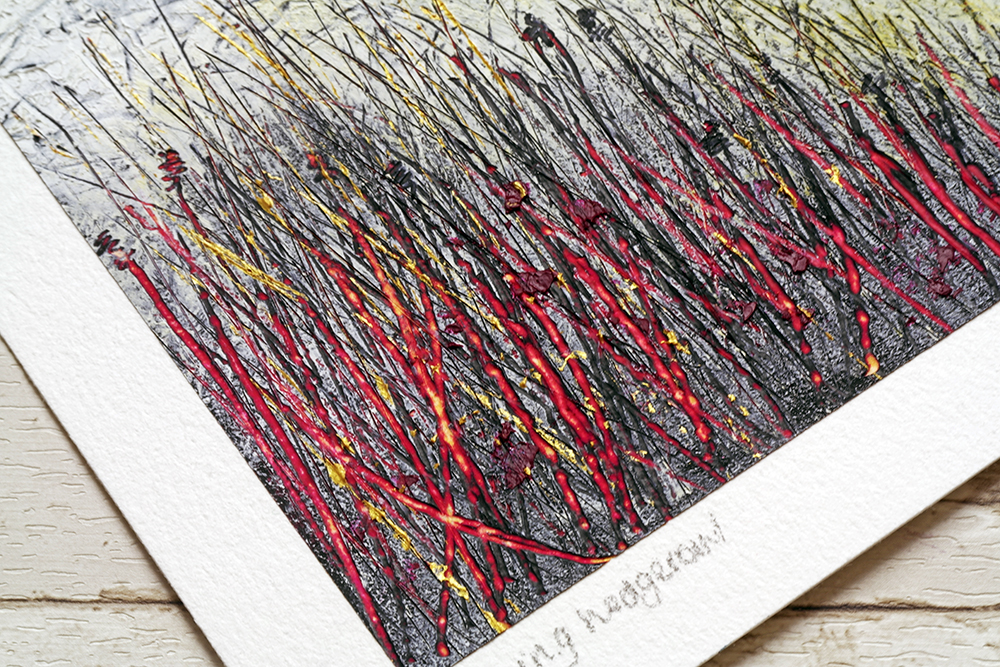 Use painting knives for thick impasto techniques.
Cold wax medium works brilliantly with painting knives and large brushes for creating thick, textural applications. If you're looking to experiment then don't limit yourself to just brushes and knives! You can use all manner of tools and accessories to apply paint. Try using silicone bowl scraped, pastel shapers, squeegees, rollers and soft rubber brayers to see what kinds of textures you can create.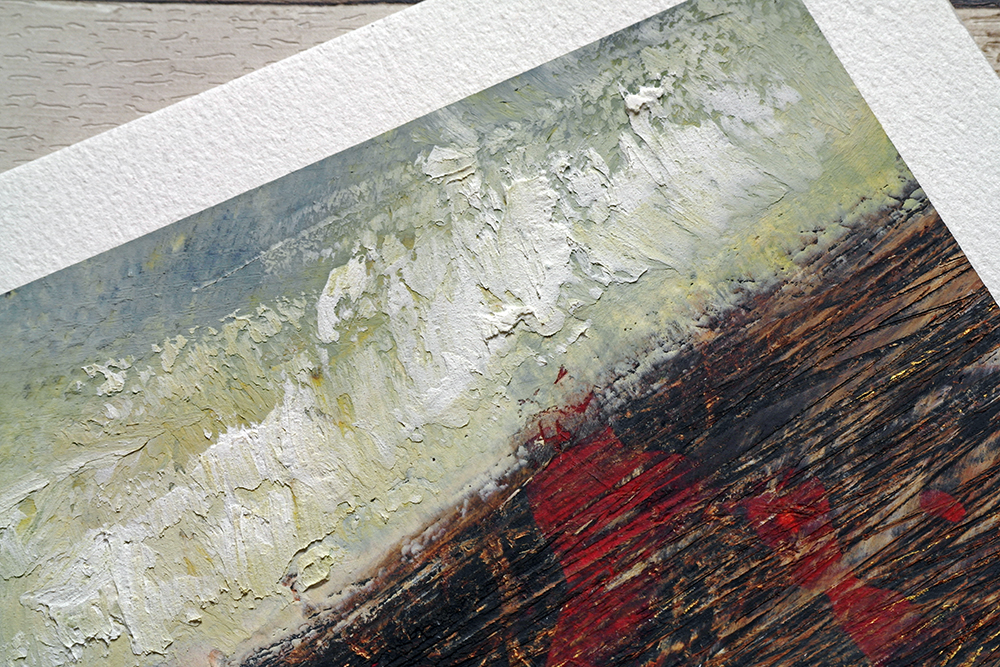 The dense texture of cold wax creates clean breaks when it separates from your knife or brush. This allows it to retain stiff, sharp peaks. Qualities like this make cold wax ideally suited for expressive mark making.
'Varnishing' your Cold Wax Paintings
You can also use Cold Wax Medium as a final varnish on your cold wax paintings. If you are painting with cold wax on oil paper, your final artwork will need to be protected under glass. If you are working on board you can apply a layer of cold wax medium with a microfibre cloth. Once dry, use a clean cloth to buff it to a glossy finish. The drying time of your paintings will vary depending on the thickness of application – non-thick applications should be dry enough after 2 weeks.
Use Cold Wax Painting Medium as a final varnish on other mediums
You can also use cold wax to seal other mediums including watercolour and pencil drawings. To apply a wax varnish to either watercolour or pencil simply apply the cold wax medium in small circles with a soft cloth. Buff it with a soft cloth when dry to create a glossy finish. You may need to fix your drawing before applying the cold wax medium to avoid moving the pigment.
Give it a go and don't be afraid to experiment!
Cold Wax painting is a really fun process to try out, and can result in all kinds of interesting works of art. The full range of Zest It Cold Wax Painting mediums offer a versatile painting system that will allow you to explore cold wax painting to its full potential.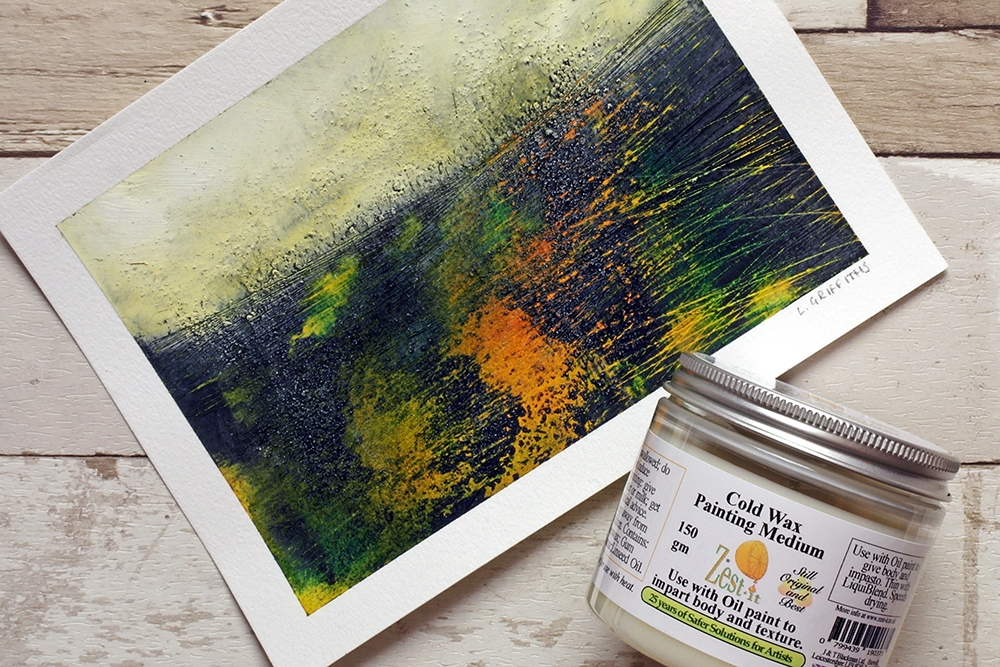 ---
Frequently Asked Questions
Will my Cold Wax Painting Melt?
You shouldn't need to worry about your wax paintings melting. The wax in Cold Wax Painting Medium has a high melting point. It is very unlikely to affect your painting in most environments.
How will it affect the drying time of my oil paints?
Cold Wax Medium will speed up the drying time of oil paint, depending on the ratios of paint and medium used. Once you finish a painting you should expect the wax/paint to be touch dry within a week. A painting can take much longer to cure fully. There are certain variables that will affect the drying rate such as humidity, the thickness of application and the type of oil paint used. Applications that aren't too thick should be dry in a couple of weeks.
Are Zest-It Wax Mediums toxic?
No, all Zest-It wax mediums are non-toxic, non-flammable and biodegradable. As with all solvent-based art materials, it is advised to practice good safety measures. Use these products in a well ventilated area and do not smoke, eat, or drink when using them. Always wash hands after use. Zest-It products carry the appropriate hazard labelling where applicable. Individual product data sheets are available on our website.
Do I need to work 'fat over lean' with cold wax painting?
The 'Fat Over Lean' principle doesn't apply to cold wax painting. You can layer oil paints on top of dry wax without worrying about cracking.