Delving into the Works of David Hockney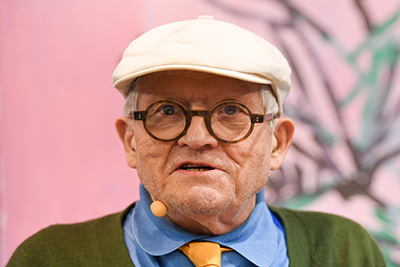 Where it all began
The great David Hockney was born in Bradford, UK in 1937. He displayed a talent and interest in art at an early age, choosing to study at the Bradford College of Art and then the Royal College of Art in order to hone his skill.
He was able to learn alongside artists such as Peter Blake and Allen Jones, while trying his hand at a range of different art forms, in order to find the one that best suited his style.
Early career
David Hockney's found inspiration in the works of the author Walt Whitman in his first few paintings. We Two Boys Together Clinging, 1961, was his first successful piece, exploring ideas of homosexuality that would become an on-going theme throughout his work.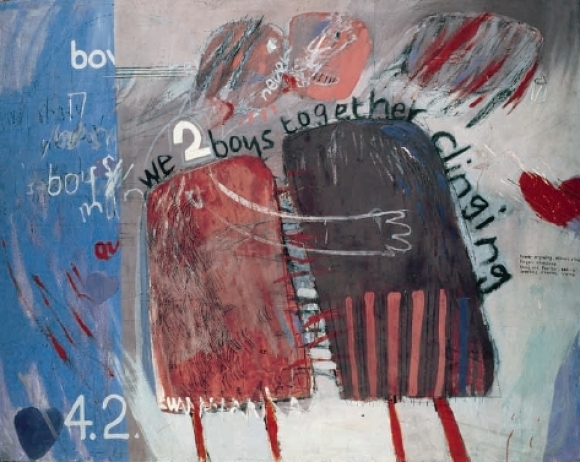 The child-like quality of the block characters and messily written words were perhaps a way to soften the shock of a painting that represented acts that were very illegal at the time.
Hockney also started to paint pool scenes early on in his career, after moving to California in 1966. A Bigger Splash aims to create movement from the pool against a background that is static and rigid. His obsession with water grew throughout his career.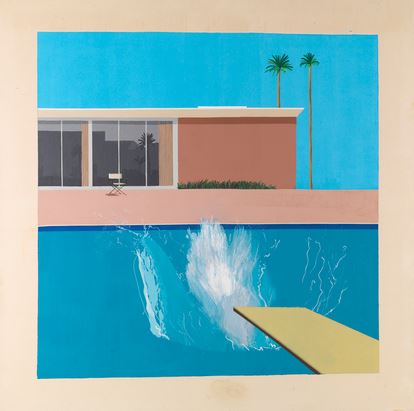 The Bright Lights of California
The Californian influence is clear in many of Hockney's works, as he uses light, bright colours to convey the sunny American surroundings. In an interview, Hockney once said that he moved to California because it was the setting of a nude homosexual photographer and when flying over the state and coming in to land, he noticed that pools were commonplace in most homes – something that would be unheard of in England, thanks to our unpredictable climate. The two elements are combined in many of his paintings.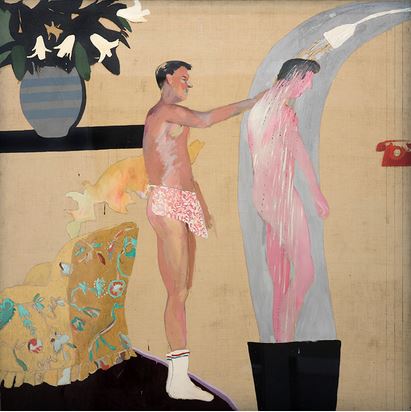 In fact, water had become an interest before he left Britain, as Domestic Scene, Los Angeles shows. Hockney had already visited LA on several occasions but completed this painting before relocating permanently. It was one of his first attempts at showing fluidity in an erotic scene.
In Peter Getting Out of Nick's Pool, he addresses the problem of movement in a different way, using thick, swirly lines to represent the flow.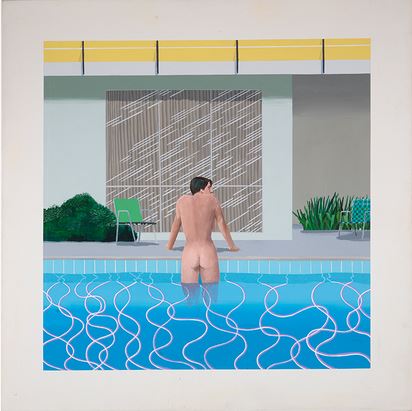 Later Works
By the mid-70's, Hockney was exploring other art forms in favour of painting, such as photography, set design and lithography. He became interested in technology and how it could be incorporated into art, returning to his paintings in the 80's to create portraits, seascapes and floral pictures. He would use modern technologies such as fax machines and printers in his works and more recently, he has been a fan of the Brushes app on the iPad.
In the 80s, he created a style of art known as joiners, in which he took pieces of photographs and fused them together to make a new and wonderful story.

Hockney completed his biggest painting in 2007. Bigger Trees Near Warter is currently displayed at the Royal Academy of Art. He is still very active on the art scene, hosting exhibitions and continuing to paint.
Lasting Influence
Hockney has had a profound influence on many contemporary artists, thanks to his outspoken opinions on sexual freedom and art funding, as well as his unique approach to his choice of subject matter. His ability to represent water scenes has been admired by many, including Ed Ruscha, Michael Childers and Jack Hazan, who made a film loosely based on the artist.
Sources: