Christmas Art Ideas – 10 Video Tutorials & Demonstrations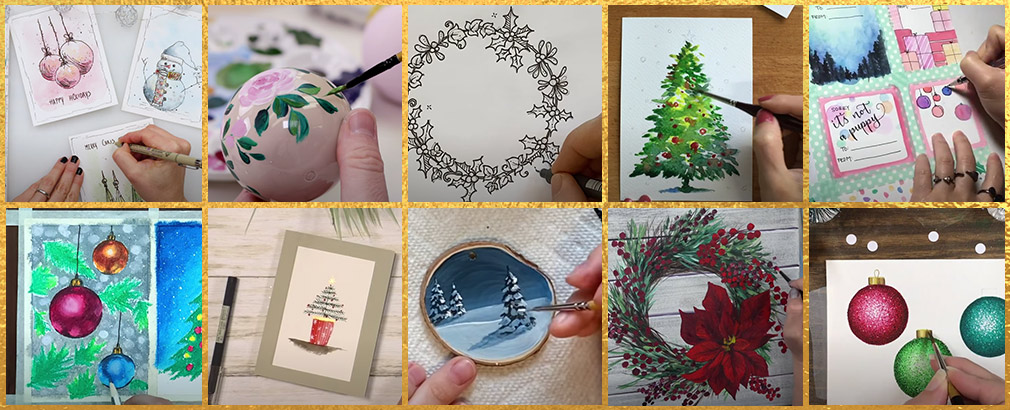 Christmas is coming so time to start thinking about all the Christmas art creations we can get making! There is nothing more special than receiving a hand made card or gift at Christmas and we have put together a selection of video tutorials of some great ideas for you to try!
Easy Watercolour Christmas Cards by MarenaART
A great tutorial showing how to make these quick and easy watercolour cards, just using a few colours and a fine liner pen.
Materials Used:
---
Hand Painted Christmas Tree Ornaments by Shayda Campbell
In this tutorial Shayda Campbell demonstrated how to turn these plain Christmas baubles into these beautiful hand painted decorations using acrylic paint.
Materials Used:
---
Learn to Draw a Festive Garland
Follow this lesson on how to draw a festive garland made from holly, ivy and mistletoe. Starting off with pencil and then followed by a fineliner pen adding extra details. Johanna starts by taking us through some basic foliage to get used to the shapes we will be using, before going on to put them together around a circle to create the wreath. You can either leave them as they are, or add some coloured ink or watercolour to add a splash of colour.
Materials used:
---
4 Watercolour Christmas Trees By Amka Artist
In this video we see a demonstration of how to paint these 4 different Christmas trees, perfect for Christmas cards, or post cards.
Materials Used:
---
Poinsettia Christmas Wreath in Acrylics by Angela Anderson
This video is filmed in real time allowing you to paint along with Angela to create this beautiful Christmas wreath painting in acrylics. Perfect to hang on your own wall, or for a special gift for someone.
Materials used:
---
Christmas Gift Tags – Easy Watercolour Art Project by Vivian
Using just one sheet from a pad of watercolour paper, artist Vivian shows us how to create 9 different watercolour gift tags – perfect for making your presents look extra special and personalised.
Materials Used:
---
Painted Wooden Slice Ornaments By Emma Jane Lefebvre
Artist Emma Jane Lefebvre demonstrates how to paint wooden slices with 5 different designs using acrylic paint.
Materials Used:
---
Super Simple Watercolour Christmas Cards by CreationCeeCee
Follow this demonstration to make these really simple but effective watercolour Christmas cards. Finish off with a bit of gold metallic paint for a real festive feel!
Materials Used
---
Christmas Tree Drawing with Oil Pastel for Beginners by Art Diarium
A great project to try if starting out with oil pastels. Watch this step by step process of creating two beautiful Christmas drawings using oil pastels – perfect for a home made Christmas card!
Materials Used:
---
How to Paint Glitter Baubles with Gouache by Ruth Wilshaw
This great beginners tutorial using Gouache paint shows you how to create this glitter effect just using regular Gouache paint – no metallics!
Materials Used