Beginners Guide: How to use Gouache
Gouache paint is great to work with and one of the less well-known mediums, an opaque watercolour and therefore more forgiving.
Gouache is the latest variation of similar painting mediums, gouaches predecessors were Egg Tempera which is bound with egg yolk as you might expect, and Casein, Casein is made with precipitated milk to bind the pigment.
There are subtle differences in these three mediums, probably the most important of which is that Egg Tempera and casein once dried is waterproof, but Gouache is not, and therefore artwork produced using gouache needs to be mounted and glazed the same as you would a watercolour. An advantage here is that it can be reactivated at any time by dampening, allowing for more subtle blending techniques.
The binder used in the manufacture of gouache is Gum Arabic the same as in watercolour. The particles of pigment are larger in gouache than in watercolour and there is significantly more pigment in gouache than in watercolour, this, coupled with the addition of an extender, usually precipitated chalk, helps to make the paint much more opaque than watercolour.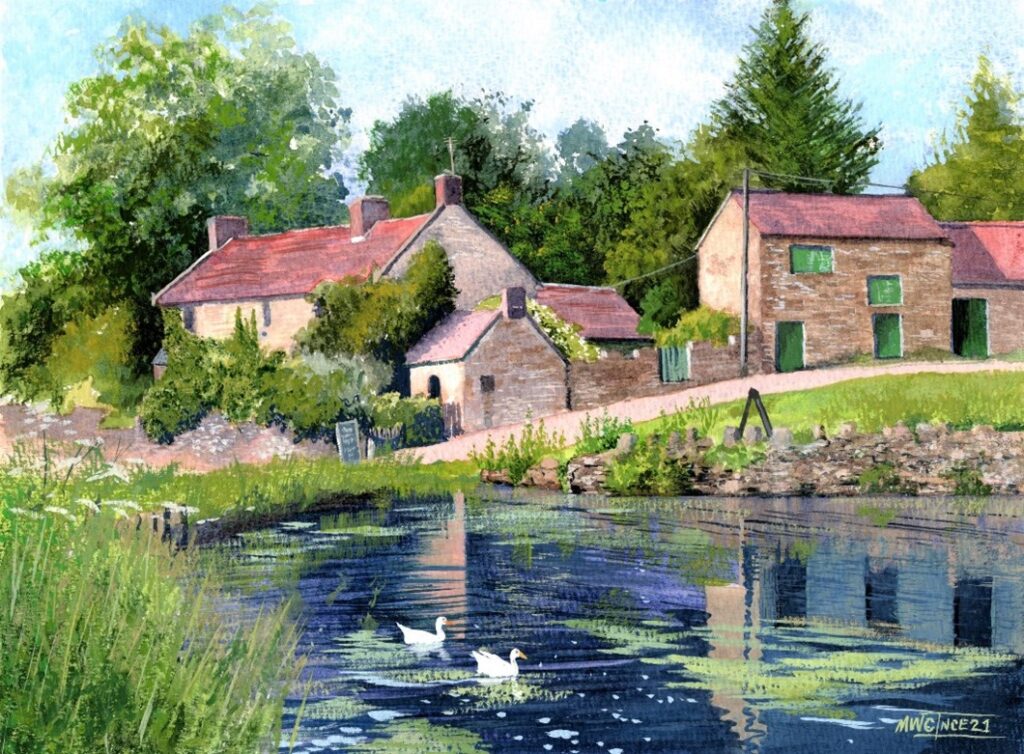 Characteristics of Gouache
Gouache dries to a lovely, matt, velvety finish and, as it is an opaque medium, has excellent reproductive qualities, less of the subtleties are lost when compared to the reproduction of watercolour, therefore, gouache has long been the favoured medium of illustrators, comic illustrators, animators, and designers.
The surface of a gouache painting is ideal for some mixed media effects, and I have used coloured pencil and artist soft pastel to great effect with gouache. The opaqueness of gouache paint allows for painting light on dark making it much more forgiving than watercolour.
I love painting on dark coloured surfaces, especially on black or dark paper or card. There are many brands of gouache and the cheaper, student quality is a great way to experiment to see whether you like the medium and no doubt once you have fallen in love with the properties of the medium as I have you will progress to the better, artist quality products.
Surfaces
You can use gouache on a wide variety of surfaces including all types of watercolour paper, the heavier the better. 140lb upwards will avoid the need for stretching while lighter papers will need stretching to avoid 'cockling', I have even used stretched pastel papers which come in a multitude of colours. You can paint on any Mountboard, you can even use canvas boards or stretched canvases.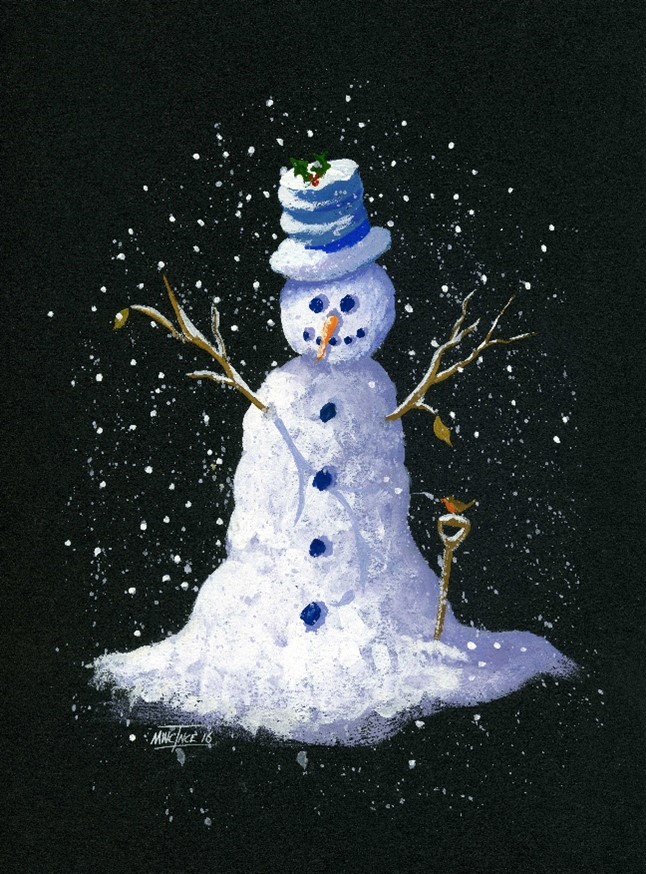 I use various types of brush with gouache including Hog bristle brushes and synthetic watercolour and acrylic brushes. Gouache can be thinned with water, though over thinning should be avoided as if the wash is too watered-down adhesion may be compromised, however, if you are going to over-paint this with a thicker mix then all will be well. I tend to use only enough water to get the paint to do what I want and paint as it comes straight from the tube for 'scumbling' which is great for textural effects such as frost, snow, the sparkle on water, tree bark etc. and for highlighting. The greatest value of gouache is being able to paint from dark to light!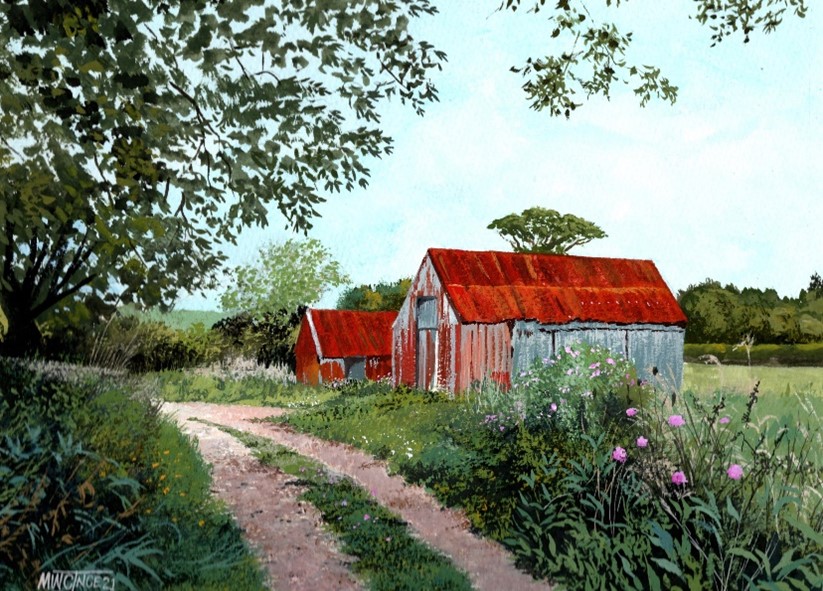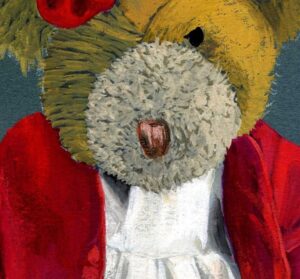 Teddy Bear Gouache Tutorial
Step by step tutorial of 'Harriet' the teddy bear painted in gouache by Murray Ince.
Gouache, A Few Tips
The advantage of gouache over watercolour is the ability to reactivate the underlying colour by dampening with a clean, wet brush or spraying with water using an atomiser. This allows us to blend 'wet in wet' to create soft transitions from dark to light which is perfect for portraying subtle changes of tonal value.
Mountboard is great for painting on with gouache and as you have seen can be painted onto very dark 'supports' (paper, card, canvases).
Gouache like watercolour dries quickly, you can reactivate gouache when it has dried on your palette, however, due to the slight grittiness of gouache I recommend using a cheap old bristle brush for reactivating your colours, not your best, soft brushes as this will wear the hairs out quite quickly.
To clean a palette of old, used gouache, first soak your palette for ten minutes in warm water then clean off with a washing up brush.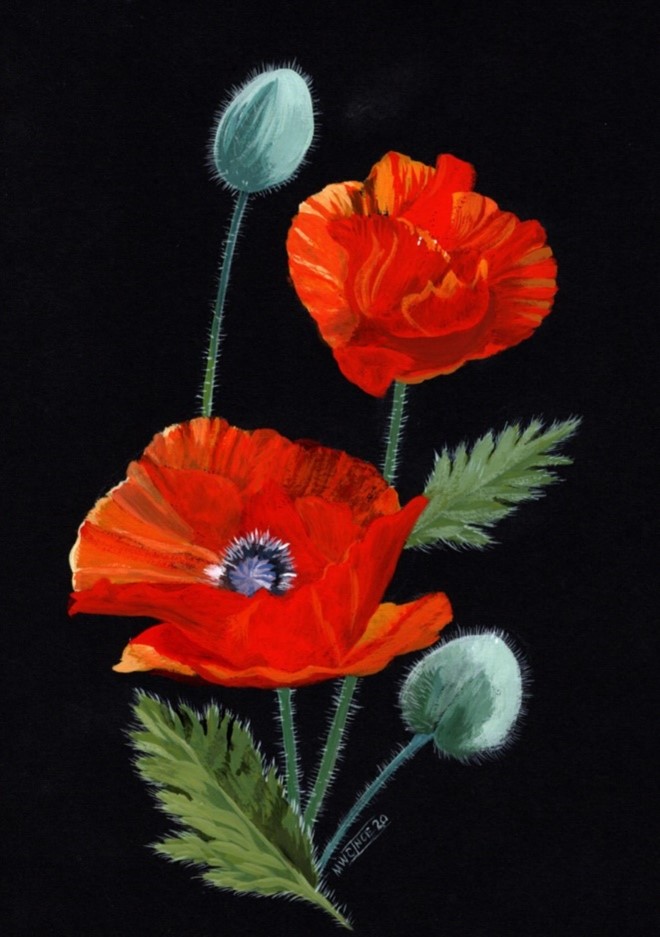 ---
Murray Ince is an international award winning artist living on the Isle of Wight. He leads painting holidays in the UK and Europe, runs a couple of art groups on the Island, tutors on a 'one to one' basis at his home studio and can also arrange 'one to one' tuition sessions via Google meet. For more information visit his website: https://www.murrayince.com
Murray is the founder member of the 'Society of painters in Water-Mixable Oils' for more information visit… https://www.spwmo.org.uk/